WATCH: Francis Ngannou Takes on a Reporter and Submits Him
Published 03/25/2021, 1:49 PM EDT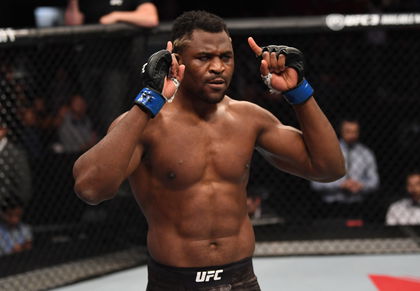 ---
---
UFC Heavyweight Francis Ngannou is one of the scariest men on the planet. He has unreal power. Further, all of his teammates call him a freak of nature, and rightly so. He has finished his last four opponents in the first round. The combined fight time of his last four fights is less than one entire round.
ADVERTISEMENT
Article continues below this ad
So, when there's an MMA reporter trying to grapple with him, it begets the question, why? Not only is the Cameroonian stronger than almost all the heavyweights out there, but he's also a really underrated grappler. If you combine that with the fact that Ngannou had a weight advantage of almost 100 pounds on the poor guy, you see the problems with this madness.
ADVERTISEMENT
Article continues below this ad
The one good thing about this video is that the massacre doesn't last very long. How will it? Ngannou submits the reporter in 30 seconds after some lovely conversation.
Ngannou took him down to the ground and started choking him. The reporter screamed a bit and showed some frustration for being on his back. What else would he expect?
The heavyweight asked the reporter if he was fine, and the reporter told him that he was. However, when Ngannou asked him if he was sure, the reporter replied, "No, I'm going, I'm going." Ngannou let go at this point after the reporter submitted.
Francis Ngannou vs. Stipe Miocic 2: The heavyweight title fight
While the reporter provided some much-needed practice for Ngannou, he will face the real deal on Saturday in the main event of UFC 260. He is fighting the champion Stipe Miocic for the second time after losing the first fight in a rather meek fashion.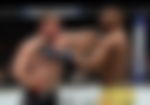 However, a lot has changed since then, and Ngannou is on a four-fight win streak. On the other hand, Miocic has cemented his status as the greatest heavyweight of all time after his intense trilogy with Daniel Cormier. He reclaimed his title, and it's on the line again.
ADVERTISEMENT
Article continues below this ad
'The Predator' is the most dangerous man in the division right now, and the toughest fight for Stipe out there. It'll be fascinating to see whether Ngannou has made the adjustments in his game to beat Miocic. If he has, we'll find out the champion's true mettle and whether he can beat this new and improved version of Francis Ngannou.
Do you think anyone else in the heavyweight division can beat Stipe Miocic other than Francis Ngannou?
ADVERTISEMENT
Article continues below this ad