WATCH: Henry Cejudo Disses Alexander Volkanovski, Dominick Cruz and T.J. Dillashaw in His Latest Rap Song
Published 12/20/2020, 2:07 PM EST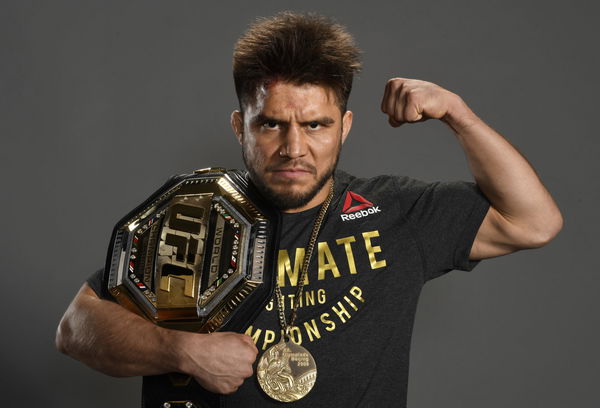 ---
---
Despite retiring, Henry Cejudo always finds a way to keep his name relevant in the media. Ahead of the Fighters Only awards, the former UFC double champ has dropped a rap song dissing some of his former opponents, such as Dominick Cruz and T.J. Dillashaw.
ADVERTISEMENT
Article continues below this ad
Cejudo is a nominee for the honors of 'Fighter of the Year' at the World MMA Awards. With the voting now closed, the results will be announced on 26th December.
Known for his cringe antics, Cejudo kept at it as he dropped his latest rap song on his social media. Titled 'Cringe A** Henry', the rap cements his place as arguably the cringiest fighter in all of MMA.
ADVERTISEMENT
Article continues below this ad
The song is a parody of Cardi B's hit – WAP from earlier this year.
Cejudo brought out the familiar setting of cushions with the faces of UFC fighters. He first dipped his hands into this idea at the weigh-ins for UFC 249 against Dominick Cruz earlier this year in April. Cejudo would defeat Cruz in that fight. During the post-fight interview, 'Triple C' shocked the world as he announced his retirement from the sport.
Despite retiring, the former Olympic gold medallist has been pushing for a fight with featherweight kingpin, Alexander Volkanovski.
Why is it hard for Henry Cejudo to get a fight with Alexander Volkanovski?
After he rode off in the sunset, Cejudo has hinged the possibility of his comeback on a fight with Volkanovski. A win over the Aussie will make Cejudo the first fighter in UFC history to hold titles in three different weight classes of the UFC.
However, the fight is hard to get for Cejudo in the first place. Despite his popularity due to his antics, Cejudo isn't the biggest of draws in the UFC. A fight between him and Volkanovski, albeit a treat for the fans of the sport, won't generate the same amount of buzz as a fight featuring Jon Jones, Conor McGregor, or Jorge Masvidal, for instance.
ADVERTISEMENT
Article continues below this ad
However, this isn't a knock on Cejudo who possesses one of the best resumes in combat sports. The lighter weight classes of the UFC have traditionally not been among the ones that generate big PPV numbers.
Cejudo, meanwhile, will continue with the same antics that have earned him the reputation of 'King of Cringe'.
ADVERTISEMENT
Article continues below this ad