WATCH: The Unique Ways in Which Tony Ferguson Trains
Published 05/13/2021, 1:18 PM EDT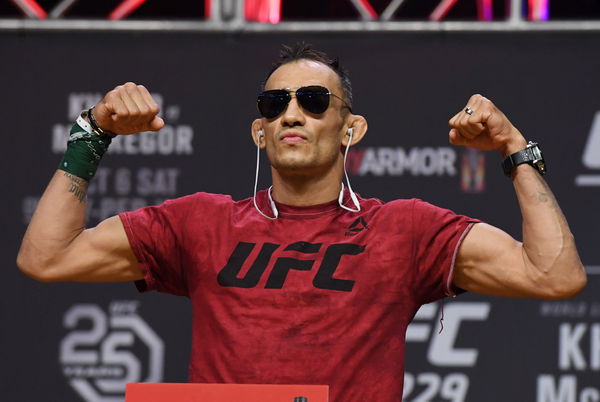 ---
---
Training is the most important part of any sport. It's even more important for MMA as if you don't train well for an opponent; you'll end up getting hurt pretty bad. Hence, when a fighter like Tony Ferguson challenges the normal norms in which a fighter trains, the fans tend to notice.
ADVERTISEMENT
Article continues below this ad
Ferguson is one of the most successful fighters in the UFC, employing his trade in the lightweight division. He is fighting again at UFC 262 alongside Beneil Dariush in a match that he desperately needs to win. He has lost two fights in a row, and it's a sharp fall when you compare it to his amazing run of 12 successive wins before that.
ADVERTISEMENT
Article continues below this ad
His success can be attributed to the way he trains, and it really is something. You'll find him hitting steel poles with his elbows and knees to condition them better. However, he doesn't stop there. Ferguson also kicks huge tires and wrestles gym equipment.
In addition to that, he does bench presses in a way that is indescribable. You have to see it to believe it. He does flips off of a ball on a beach and also uses a segway scooter to improve his balance. However, the most controversial part out of all this is he never spars.
It might be a bit of a stretch to call that fact the most controversial about a man who throws baseballs to practice his overhand right, but it does make sense. He hasn't sparred since 2015 since he beat Gleison Tibau and has justified it by saying that he already has all the tools that he needs.
Tony Ferguson and his incredible career in the UFC
All of these wild techniques might make one laugh, but there's no doubt that they work. Tony is currently ranked number five in the official UFC lightweight rankings and has an incredible record of 25-5. His last two losses came against Justin Gaethje and Charles Oliveira, two of whom went on to fight for the title in the very next fight.
ADVERTISEMENT
Article continues below this ad
Interestingly, Oliveira is fighting on the same card. He is facing Michael Chandler for the lightweight title after the former champion Khabib Nurmagomedov vacated it. If Ferguson wins this fight against Dariush, he'll thrust himself back into the conversation for a title shot.
He's already established himself as one of the legends of the sport, and it will be interesting to see where his career goes from here.
ADVERTISEMENT
Article continues below this ad
Do you think Tony Ferguson can mount another run at the title?