WATCH: Top 5 Cody Garbrandt Moments From His UFC Career
Published 05/22/2021, 12:34 PM EDT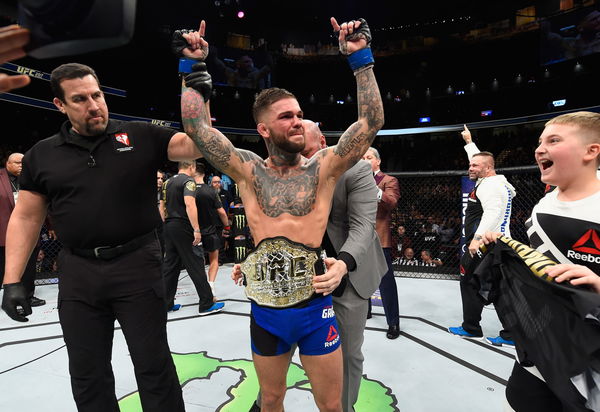 ---
---
Former UFC bantamweight champion, Cody Garbrandt, is one of the most exciting fighters to watch when he's in his element. However, when he's not, he gets knocked out in the first round. Garbrandt is one of the most polarizing fighters that the UFC has on their roster.
ADVERTISEMENT
Article continues below this ad
He's a fighter with undeniable talent, but his mental fortitude lets him down, repeatedly. Garbrandt is in action against Rob Font at UFC Vegas 27. He's currently ranked number four in the official UFC rankings for the bantamweight division, while Font is ranked one above him.
Ahead of this fight, take a look at his five greatest moments in the organization.
ADVERTISEMENT
Article continues below this ad
Cody Garbrandt brawls with Conor McGregor
'The Notorious' was slagging off TJ Dillashaw, who was a special guest coach on TUF 22 for Team Faber, to 'The California Kid.' Garbrandt was on Faber's team, too, and was really close to Dillashaw.
McGregor questioned Dillashaw's loyalty and branded him a "snake in the grass," which prompted an angry response from Garbrandt. It led to some pushing. And meanwhile, Conor was proven right about Dillashaw's actions.
Some high-level verbal sparring with Dominick Cruz
While Garbrandt is a gifted fighter in the octagon, his trash-talking doesn't really match up to it. Hence, when he finally got his title shot after winning his first 10 fights, the trash-talking that he did against the champion Dominick Cruz was rather flat.
However, it all turned out pretty well for 'No Love' in the end.
Garbrandt winning his first UFC title
His trash-talking might have left the fans wanting for something better, but he proved everyone wrong in the ring. Cruz was the favorite for the fight and believed it himself. The fight was a brutal performance from Garbrandt as he got a takedown on Cruz and knocked him down twice.
He couldn't find the finish, but it was enough for the judges to give the win to the 25-year-old. His flurry in the fourth round, which almost finished Cruz, was the highlight of the fight.
His rivalry with former teammate TJ Dillashaw on TUF
Yes, you read that right. Dillashaw betrayed Urijah Faber and Cody Garbrandt by leaving Team Alpha Male to join Team Elevation in Colorado. Garbrandt didn't like this and counted him as his enemy from thereon. After winning the title, Garbrandt called out Dillashaw, and they were both made coaches for The Ultimate Fighter 25.
The season was one of the most heated ones that the UFC put out. Even though Team Garbrandt didn't do much good, it was still an entertaining watch.
Cody Garbrandt losing the title to TJ Dillashaw
Their subsequent title match in November 2017 was supposed to be one of the best fights of all time. It did deliver on its promise, and Garbrandt and Dillashaw engaged in a heated battle. Garbrandt knocked TJ down in the first round and got overconfident.
It backfired pretty bad as Dillashaw came back hard in the second round, hunting for a finish. Garbrandt was on the back foot for the rest of the round, and Dillashaw finally got his finish. Garbrandt immediately stood up, suggesting that he wasn't hurt, but it was too late, and the referee had stopped the fight.
ADVERTISEMENT
Article continues below this ad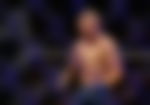 Shortly afterward, Dillashaw was banned for using performance-enhancing drugs after he knocked Garbrandt out in the first round of their rematch. Amazingly, Garbrandt has made his way back to the top while Dillashaw is still in the arrears of a suspension.
Do you think TJ Dillashaw deserved to be stripped of the Bantamweight belt?
ADVERTISEMENT
Article continues below this ad