WATCH: When Joe Rogan Gave a Complete Breakdown of Ice Spilling Over in the UFC Ring
Published 02/06/2021, 1:14 PM CST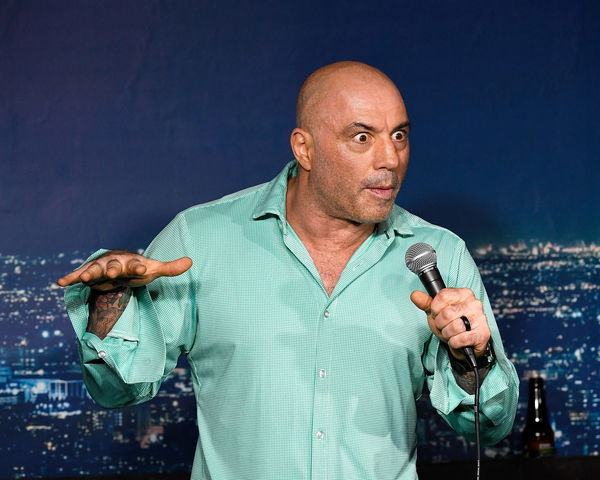 ---
---
Joe Rogan has been the voice of the UFC for almost two decades. Rogan's uncanny way of blending in his idiosyncrasies with the professional job of a color commentator has made a home in the fan's heart. However, during his long stretch with the promotion, Rogan has done play-by-play for more than just the fights. Back in 2010, the popular podcast host, unprecedentedly, did a play-by-play of ice spilling on the Octagon floor.
ADVERTISEMENT
Article continues below this ad
The occasion was UFC 109: Relentless. During a closely contested three-round fight on the preliminary card, lightweights Melvin Guillard and Ronys Torres were going fighting to cement their spot in the 155-pounds division.
At the end of the first round, Torres' cornermen put ice on the Brazilian back, a fairly regular practice in UFC fights. However, the bag which was holding the ice fell, and this led to Joe Rogan flipping out on air.
ADVERTISEMENT
Article continues below this ad
This is one of the funniest moments in UFC broadcast history. Back in 2010, Joe Rogan went IN on a spilled bucket of ice inside the Octagon 😂
pic.twitter.com/BToWc36R8S

— Chamatkar Sandhu (@SandhuMMA) February 6, 2021
Rogan criticized Torres' cornermen as they frantically attempted to neutralize the damage by putting the ice back in the basket. However, the pressure of the situation got to them. With the crowd booing in the background, they spilled the bucket as well. With no escape route in sight, the cornermen instead pushed the ice to the slight space at the end of the Octagon.
Joe Rogan didn't take it easy on the cornermen who were at fault
Rogan's outburst at the situation was justified in some ways. When the cornermen left the Octagon, the situation hadn't been restored to normal. There were still ice cubes lying on the floor, which the UFC personnel had to clean up. The whole situation led to an increased break between the first round and the second.
ADVERTISEMENT
Article continues below this ad
If it wasn't for Rogan's flipping off at the whole incident, UFC 109 would've seemed rather uneventful and insignificant in the long run. Both Guillard and Torres couldn't leave a major mark on the sport. Regardless, owing to the circumstances that stemmed out of thin air, fans will always remember the fight between the two.
ADVERTISEMENT
Article continues below this ad