WATCH: When Khabib Nurmagomedov Heaped Praise on Liverpool but Chose Real Madrid as His Favorite
Published 01/29/2021, 12:00 PM EST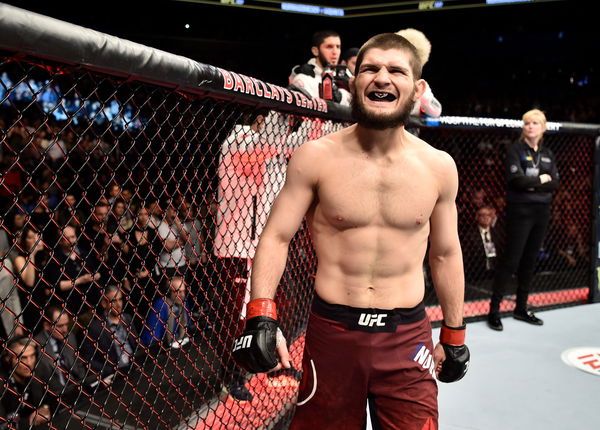 ---
---
Khabib Nurmagomedov is one of the greatest mixed martial artists of all time. However, his interest in sports is not confined to MMA. The UFC lightweight champion is a big fan of football as well. While he finds the English Premier League to be above the rest, his favorite club is from La Liga instead.
ADVERTISEMENT
Article continues below this ad
Post-retirement, Nurmagomedov's interest in football is very clear from his social media. A few days back, he even posted a video of training and declared that he is ready for accepting offers from professional football clubs. The undefeated champ's love for the sport is not a recent affair. It is something that he has inherited from his late father, who was a fan of the sport as well.
ADVERTISEMENT
Article continues below this ad
In 2019, during the lead up to his UFC 242 fight against Dustin Poirier, Nurmagomedov sat down with BT Sport and showed off his knowledge of footballing history.
"I think I am not only a fan, but I think I know a very big history of football. Like English Premier League for me is the best Premier League in the world. I follow everything," Nurmagomedov said.
"I like Liverpool. I remember when I was a kid in 2005 I watch Liverpool vs Milan in Dagestan we have a big screen TV on the beach. Thousands of people watched this match," he added.
Despite praising EPL, Khabib Nurmagomedov chooses Real Madrid as his favorite club
The undefeated Russian champ vividly remembers the historic triumph of Liverpool in the Champions League of 2005. Despite trailing 3-0 at half-time, 'The Eagle' had faith in The Reds. With the likes of Stephen Gerrard and Milan Baros in the squad, among others, Khabib remembers the squad as one of the best of all time.
"When they [were] losing after the first time 3-0, I really believe they have to come back. I like those teams with Milan Baros, Smicer, Riise; I remember this. Steven Gerrard, it was like a crazy team. Very good team."
ADVERTISEMENT
Article continues below this ad
Regardless of his love for the EPL, Nurmagomedov's favorite club is Real Madrid. What impresses him about the Premier League is that he can watch even when the teams on the court are not the best.
"Right now, too. They have a very good team. I watch all matches. But I am a big fan of Real Madrid. I like watching English Premier League. Even they play like the worst team, I still watch it."
Nurmagomedov recently played a few games with former AC Milan midfielder and a Dutch legend in Clarence Seedorf. As far as MMA is concerned, Nurmagomedov's reaction following UFC 257 indicated that he may never return to the UFC.
ADVERTISEMENT
Article continues below this ad