WATCH: When Khabib Nurmagomedov Fulfilled a Fan's Wish By Punching Him
Published 02/01/2021, 1:24 PM EST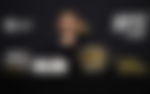 ---
---
Khabib Nurmagomedov hardly ever wins fights while standing on his feet and punching his opponent. However, when a fan made an over-the-top request of getting punched, Nurmagomedov couldn't help but oblige. What happened Nurmagomedov let his hands would've surely made the fan question his choice.
ADVERTISEMENT
Article continues below this ad
Back in July 2017, the current UFC lightweight champion was recovering from a failed weight-cut that kept him away from the Octagon. Away from the competition, Nurmagomedov was enjoying his time in Tajikistan. It was there that a group of fans surrounded the Russian juggernaut.
One of these fans made a slightly quirky respect to Nurmagomedov. He asked the UFC lightweight to punch. When Khabib landed his right hand to the fan's mid-section, the latter succumbed to the ground in pain. The crowd which gathered around the scene clapped as the fan slowly made his way up and hugged Nurmagomedov.
ADVERTISEMENT
Article continues below this ad
"This is not my job. Crazy Fan," Khabib wrote on Instagram.
Khabib Nurmagomedov has a made special place among millions of UFC fans
While Nurmagomedov punched the fan in the above post, this isn't what he usually does with his huge number of fans spread globally. Even in this interaction, it doesn't look like he has invested his full power in the punch.
The Russian's popularity can be gauged from the fact that he has 27 million followers on Instagram, the most for any Russian. It is also second only to Conor McGregor among UFC fighters, for whom the figure stands at 39 million. Nurmagomedov's humble approach to the game and how he is sometimes funny despite not trying to have contributed to his popularity.
ADVERTISEMENT
Article continues below this ad
Despite his retirement, Nurmagomedov's social life looks as happening as ever. From showing off his speed on the football field to meeting notable celebrities such as Will Smith, Nurmagomedov is enjoying the retired life. Meanwhile, he also takes his time out to assist upcoming fighters in his family, such as Umar Nurmagomedov among others.
After UFC 257, the chances of a return for Nurmagomedov look very slim. Therefore, expect him to carry on with an active lifestyle after retiring without suffering significant damage in the brutal sport of MMA.
ADVERTISEMENT
Article continues below this ad
WATCH: UFC Champion Khabib Nurmagomedov Plays 'Dagestani Basketball'