'We Were Never Close Friends' – Gilbert Burns Breaks Down His Relationship With Kamaru Usman
Published 01/27/2021, 2:24 PM EST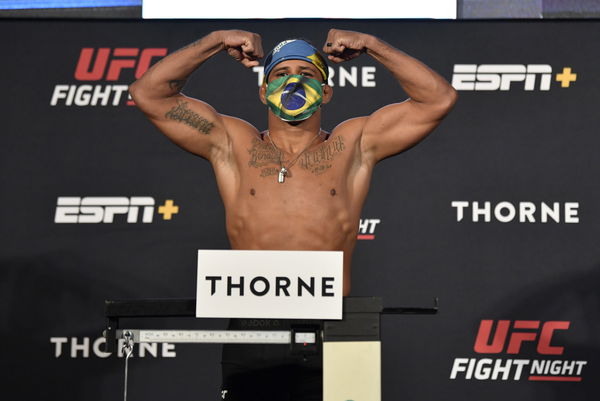 ---
---
After multiple re-bookings, Gilbert Burns and Kamaru Usman will hopefully collide inside the Octagon at UFC 258. What makes the pairing between the two interesting is that the two have spent countless hours in the gym with each other. Therefore, they are well aware of the strengths and weaknesses of each other. However, despite being stablemates, Burns doesn't consider Usman as his close friend.
ADVERTISEMENT
Article continues below this ad
Gilbert Burns, while talking to MMA Junkie, gave an insight into the equation between him and the current welterweight kingpin.
ADVERTISEMENT
Article continues below this ad
Ever since moving up to welterweight, 'Durinho' has been operating at a different gear altogether. With four straight wins at 170-pounds, Burns has earned the right to challenge for the belt. His experience of training inside the gym with Usman should come in handy for the title fight.
"It was a hard one for both," Burns said about training with Usman. "He beat me up a couple of times. I beat him a couple of times. It was very, very competitive. Especially when I went up to 170. I was a big 55er. I think I was always a natural 170. A natural welterweight. But as soon as I move up I got a little big bigger and then I felt even better with all the welterweights at the gym."
Gilbert Burns heaps praise on Kamaru Usman for his work ethic
The UFC first booked a fight between Burns and Usman for UFC 251. However, the challenger caught COVID-19 and hence the promotion replaced him with Jorge Masvidal. 'Gamebred', who took the fight on very short notice, lost the fight via a unanimous decision.
The UFC rescheduled the fight between Burns and Usman to UFC 256 in December. However, this time it the champ who pulled out from the fight as he needed more time to heal from undisclosed injuries.
Regardless of the rescheduling, the two have never talked ill about each other. The challenger, Burns, didn't hold back in sharing his thoughts about the champ, Usman.
"Kamaru was always a guy that if I saw was available, I was always looking for him to drill, train, and asking questions. We help each other a lot; you know. I have so much respect for Kamaru [Usman]. I like him a lot. It's gonna be just a competition. I'm gonna go out there and give my best. No bad blood. Nothing… He's been a good champion and a great teammate," Burns said.
Burns looking to finish Usman on February 13
During the initial booking of the fight between the two, Usman changed his camp as he prepared for his second title defense. The Nigerian moved from Sanford MMA in Florida to Denver under the tutelage of Trevor Wittman. Despite sharing the mat with each other, Usman and Burns were never close friends, for instance, like Khabib Nurmagomedov and Daniel Cormier.
ADVERTISEMENT
Article continues below this ad
"We were never close friends like calling each other and texting each other. It was always about fighting like what you think about this guy and about technique. He was always a great teammate. Good energy. Crazy amount of work ethic. The guy works very hard. I respect that so much and I'm going out there on February 13 and I'm looking for a finish," Burns added.
"To honor that relationship that we have, I gotta give my best. I'm gonna train very hard. To deliver my best because I know how good he is, how much he is training for that."
ADVERTISEMENT
Article continues below this ad