'Whale' Conor McGregor Talks About the Hurdles That Halt His Smooth Sailing in The Fight Game Despite Being 'All-In'
Published 06/16/2022, 7:43 AM EDT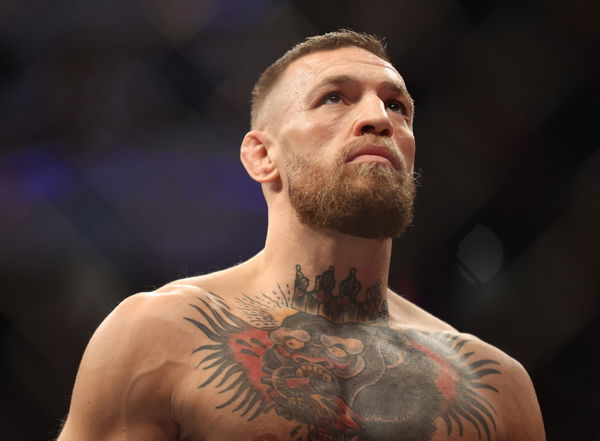 Conor McGregor is undoubtedly one of the most charismatic fighters that we will ever see in combat sports. His confidence and belief in himself is impeccable and has gotten him where he is today. Before he even made it to the UFC, McGregor knew he would be a world champion and kept the belief in himself alive despite facing a bumpy road to the big leagues.
ADVERTISEMENT
Article continues below this ad
He always gives his all in whatever he pursues in life and aims for excellence. Hence, it can be said that Conor McGregor truly does have the mindset of a winner.
ADVERTISEMENT
Article continues below this ad
In a recent interview with the American author Tony Robbins, Conor McGregor spoke about how he believes in himself in everything he does and how he stays afloat in the world of MMA, despite all the 'politics.'
The Notorious said, "We've got to be all in on our ventures. I am all in on my whiskey, I am all in on my clothing, my fitness regime, the McGregor Fast program. I am all in on the fight game. I just want my worth, you know. There's a lot of politics in the game, the fight game is full of sharks. But I'm the f**king whale. So I want what's mine."
READ MORE: When Conor McGregor Met the Living Legend Arnold Schwarzenegger
The former UFC champion also said he participates in the mental process of visualization and that he tells everyone about his vision of success – "I tell everyone. I think it's a very important thing. It's easy for us to keep it all in. "
McGregor has always believed in the power of visualization and maintained this practice since the very start. He also visualized his Jose Aldo knockout, told the entire world, and executed it just like he did in his head countless times.
Conor McGregor has started kicking with his previously injured leg
ADVERTISEMENT
Article continues below this ad
The former double champion has been away from all competition ever since suffering a horrific leg injury. He broke his left fibula and tibia in his trilogy bout against Dustin Poirier at UFC 264.
Eleven months after suffering the injury, the Irish fighter was spotted using his previously broken leg to throw some powerful kicks while training with his team. McGregor seemed extremely pumped and excited to start using his leg again.
ADVERTISEMENT
Article continues below this ad
WATCH THIS STORY: What's Next For Jiri Prochazka After A Last Minute Win Over Glover Teixeira at UFC 275
Now that he has started kicking the bags, he can get back to training at full capacity. This will delight fans who are eager to see him return.