What Do Kevin Holland's Tattoos Mean?- Kevin Holland Provides Details
Published 03/18/2021, 1:30 PM EDT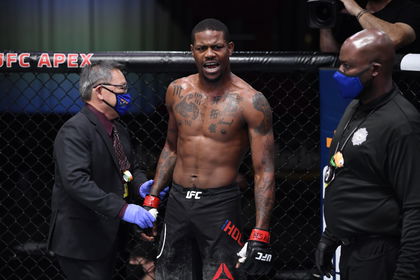 ---
---
Kevin Holland is undoubtedly one of the most recognizable faces on the UFC roster as of late. 'The Trailblazer' went 5-0 in 2020 and truly cemented his position as the 'Fighter of the Year' in the eyes of the fans. Furthermore, a huge part of his appeal comes in through his ability to the way he carries himself outside the UFC's cage.
ADVERTISEMENT
Article continues below this ad
Kevin Holland sat down with the press ahead of his biggest UFC opportunity to date against Derek Brunson. While running it up with the media, Holland was asked to detail his tattoos and what they truly mean to him. Chiefly, it's moments like these that help fans connect with the fighters on a more personal level.
ADVERTISEMENT
Article continues below this ad
Kevin Holland breaks down his new ink ahead of Derek Brunson fight
'Big Mouth' put his heart on his sleeve as he spoke about his newest tattoos and what they symbolize to him. His latest piece across his right bicep is a reflection of how he's viewed his recent success inside the cage.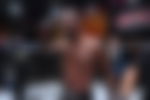 "Right after the fight, I went and got this bullet right here. It's like the same bullet you see when you're playing Mario and stuff like that, but it's a 9mm shell. My favorite gun to shoot is a 9mm, shot a 9mm a few times. Don't do forensics.
"I got that on my right arm because my right arm has been like a sniper all year long. It's been a bomb, it's been a bullet. It's been everything that a lethal weapon needs to be. Been killing folks left and right. You look at most of my finishes, it came from my right hand. I never realized how right-handed I was until I noticed that."
Perennial fan favorite: 'The Trailblazer'
Furthermore, he also described another piece he got tattooed on his shin, and the backstory is as hilarious as ever. Holland truly knows how to captivate an audience, and that's mainly why he's endeared by fans.
ADVERTISEMENT
Article continues below this ad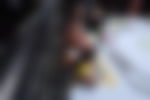 The bullet just signified what I'm going to do to these guys. If you know the game, you know that these right here go boom. And then I got my last name on my shin cause like I tell my coach all the time I didn't graduate from high school so I can't remember my name sometimes."
Kevin Holland will be looking to test his Semtex-laden right hand against Derek Brunson in his first-ever UFC main event. An impressive finish could help him leapfrog several other contenders who are looking to swipe his spot.
ADVERTISEMENT
Article continues below this ad