What Happened to Tyron Woodley?: The Downfall of a Champion
Published 03/24/2021, 3:11 PM EDT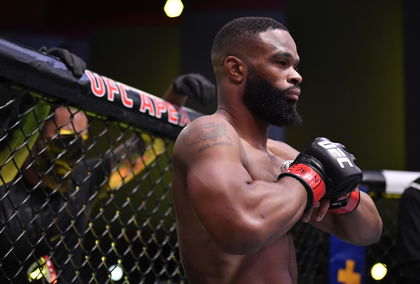 ---
---
Tyron Woodley will fight Vicente Luque in the co-main event of the UFC 260 pay-per-view. Woodley is currently on a 3-fight skid. Yet another loss could very well bring the curtains to his UFC career. The former champion will have an extra chip on his shoulders when steps into the Octagon this weekend.
ADVERTISEMENT
Article continues below this ad
'The Chosen One' seems to have lost his explosive movement when he fights. That was key to utilizing his vicious power for knocking opponents out cold earlier in his career. However, his recent backing up against the fence style hasn't worked in his favor at all.
Here we take a look at the trajectory of Tyron Woodley's entire UFC career, from the beginning to his championship reign and his recent dip.
ADVERTISEMENT
Article continues below this ad
Scrutiny of Tyron Woodley's early UFC career
'T-Wood' joined the UFC on the back of his first loss as a professional against Nate Marquardt. However, a knockout win over Jay Hieron at UFC 156, in 2013, set the tone right for his UFC career. A split decision loss against Jake Shields at UFC 161 followed.
But a vicious knockout of Josh Koscheck and a leg-kick T/Ko against Carlos 'The Natural Born Killer' Conditt set him up for a clash against Rory MacDonald. 'Red King' handed Woodley a decision loss.
A vicious finish over Dong Hyun Kim and a split decision win over Kelvin Gastelum handed the former Strikeforce fighter his first shot at the UFC welterweight championship.
Tyron Woodley becomes UFC champion and dominates the welterweight division
Woodley fought 'Ruthless' Robbie Lawler for the undisputed gold at UFC 201. A spectacular knockout finish saw him crowned the new kingpin of the UFC's 170 lbs division. 'The Chosen One' fought to a draw against Stephen Thompson at UFC 205 in his first title defense.
Yet another close fight against 'Wonderboy' in their rematch at UFC 209, saw Woodley defend his belt by a majority decision. Another decision win over Brazilian submission wizard Demian Maia marked his third successful title defense.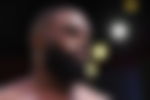 Woodley submitted Darren Till at UFC 228 in what was probably the most spectacular performance of his championship reign in the UFC. His previous fights brought some criticism from the fans as they marked the champion as 'boring'. However, he shut those claims altogether by showing Till he was on a different level than the Liverpool native.
Tyron Woodley's losing streak
Woodley was set to defend his title against Kamaru Usman at UFC 235. 'The Nigerian Nightmare' was a promising fighter and was on the back of a 9 fight winning streak in the promotion. However, many expected Woodley to get the better of Usman.
But that was clearly not the case as Usman dominated the champion for the full 25 minutes and took his belt in the process. Woodley did almost nothing in the fight and looked switched-off. Props have to be given to Usman as well, who has proven since his win was no fluke.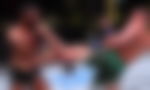 After a lay-off of over a year, the former champion returned to face Gilbert 'Durinho' Burns. Woodley was looking to earn a title shot with a win in his return. But once again, he got dominated for the full 25 minutes. Burns caught him early with a solid punch and dropped 'The Chosen One'. 'Durinho' dominated the former champion for the full 5 rounds.
Woodley was back looking for vengeance against bitter rival Colby Covington in September 2020. Many believed his feud with 'Chaos' could reignite the fire in him and bring out his best version in the process.
However, despite a better start than his previous outings, Woodley started to fade in the later rounds and eventually lost by T/KO in the fifth round because of a rib injury.
Is Tyron Woodley finished as a UFC fighter?
Woodley is currently 38-years-old and has clearly lost significant steam off his tank. However, power doesn't go away easily, and he still possesses his fight-changing trait. 'T-Wood' hasn't been able to put it to display in his last 3 contests.
Vicente Luque is a dangerous opponent in his own merit. And a messy outing will result in yet another defeat for the former welterweight kingpin. So, Woodley needs to turn back the clock and bring out his vintage savage version if he is to return to winning ways and save his career in the process.
ADVERTISEMENT
Article continues below this ad
'The Chosen One' is more than capable of doing that. It's always hard to count out a fighter like him. But fame, money, and his rapping career clearly took a toll on him as a fighter. He hasn't done almost any media obligations leading up to this fight. So, one might expect 'T-Wood' is completely switched on.
ADVERTISEMENT
Article continues below this ad
Whether that's enough for him to get a win against Luque remains to be seen. What do you think? What's the biggest reason for his skid? Let us know.