"What He Said Was Out of Line" – Henry Cejudo Blasts Brandon Moreno for 'Dog' Comments Against Brazilian Fans in His Post Fight Interview
Published 01/23/2023, 5:21 AM EST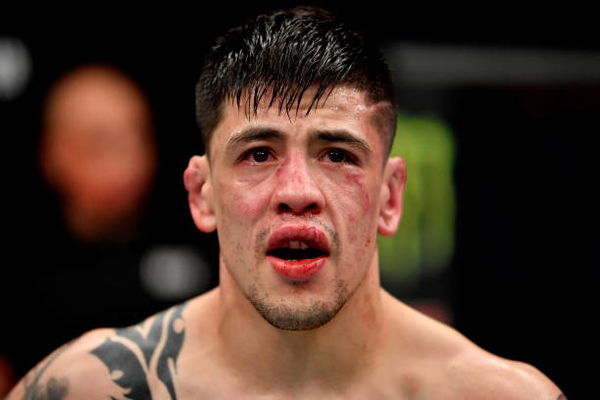 Brandon Moreno ended his iconic rivalry with Deiveson Figueiredo in a spectacular fashion at the UFC 283. After engaging with the 'God of War' for the fourth consecutive time, 'The Assassin Baby' gleamed the flyweight title to his name for good. However, the victory came in with some reservations, hate, and certainly some reprimand from the aisle side. Former two-division UFC champion, Henry Cejudo, who also happens to be Figueiredo's coach, shared his thoughts on how the flyweight fight turned out and discussed its aftermath, too. And it appears Moreno's post-fight interview has irked Cejudo; especially his last comment. In his YouTube video, 'The Messenger' talked about the 29-year-old's 'disrespectful' comments and offered an intriguing opinion on the eye-poke fiasco, too.
Apart from Cejudo, several Brazilian fans appeared quite upset with Brandon Moreno, too, as they pelted beer and food at him on his way out of the arena. And seems like Cejudo knows why!
Henry Cejudo scolds Brandon Moreno for offending Brazilian fans
ADVERTISEMENT
Article continues below this ad
In his breakdown video of the UFC 283, Henry Cejudo lashed out at Brandon Moreno for his distasteful remarks against the Brazilian people. The 35-year-old said, "Brandon, you know, pretty much disrespected Brazil with his last comment."
He further added, "You just called the Brazilian people dogs. Like, 'Viva Mexico, Perros'… I wouldn't say that right after, maybe if you're with your Mexican people, you say that, and they'll get it. But, I just think what he said was out of line and out of context. I could also see what he was trying to say or mean by that." Cejudo then talked about what may have motivated him to put out such words.
From his understanding, the excitement of winning the championship belt may have played a role in Moreno going overboard with his words. "Maybe he just got excited and said the word 'perro', dogs. If you translate it, it's like, 'long live Mexico, you dogs… They started throwing all kinds of beer and other things like that," said Henry Cejudo.
Having said that, 'The Messenger' gave Brandon Moreno a clean chit over the infamous eye-poke incident from the fight. He also broke down what exactly happened at the UFC 283 co-main and why it was 'legal'.
No problem with the eye-poke
ADVERTISEMENT
Article continues below this ad
In the same video, Cejudo came clean on the debate of the nasty blow from Moreno that called for a stoppage. But he believes that technically, it fits in as a 'legal' blow. Henry Cejudo explained, "Brandon Moreno did poke him in the eye, but he poked him in the eye that was the lead eye… He (Deiveson) ended up catching a clean hook that the thumb kind of went in but the crease of the thumb *points at the part* went in, but it wasn't the actual (tip)… So for that reason, I want to say or I believe, it's probably legal."
 

View this post on Instagram

 
However, the 35-year-old believes that the eye injury isn't the reason for Deiveson Figueiredo's upset. He credited Brandon Moreno for putting up a spectacular performance and dominating all three rounds. Moreover, Cejudo believes the 'God of War' 'didn't do a great job' in the fight.
ADVERTISEMENT
Article continues below this ad
What is your take on the eye-poke incident? Do you think Brandon Moreno won the fight fair and square? Let us know in the comments below.
Watch this story: MMA News Round-Up: Conor McGregor Reacts to Jose Aldo Hof Induction; Brandon Moreno Receives Horrible Treatment; Brazilian Legends Mauricio Shogun Rua & Glover Teixeira Hang Up Gloves at UFC 283-