What Injury Does Kamaru Usman Have?
Published 03/18/2023, 7:42 AM EDT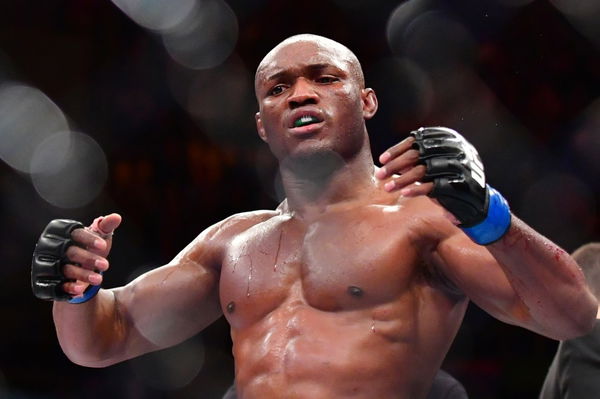 Kamaru Usman is undoubtedly one of the most dominant fighters in the UFC, with a record of 20-2-0. However, behind his impressive record lies a series of injuries that have plagued his fighting career. From damaged knee to compromised hands, Usman has battled through it all to maintain his position as one of the top fighters in the sport.
Despite the setbacks, Usman has continued to push forward and prove his mettle in the Octagon, cementing his status as a formidable foe for anyone who steps into the cage with him.
What injury does Kamaru Usman have?
ADVERTISEMENT
Article continues below this ad
'The Nigerian Nightmare' Kamaru Usman is undeniably one of the most feared fighters to have graced the UFC. But the road to the top has been far from smooth sailing. The welterweight sensation has been in a constant battle with a damaged knee for over a decade now, thanks to his wrestling background. With the knees being subject to multiple rough actions over the years, the damage piled up, resulting in a long-standing injury that has plagued Usman's fight career.
 

View this post on Instagram

 
Talking about his knee, Kamaru Usman said[per Mirror], "My knee pain has been bad for 10 years, I've had multiple meniscus surgeries and this is just from wrestling." He added, "I was so hard on my body wrestling because I just wanted to be the champion, I wanted to get there. I was willing to sacrifice whatever it took to get there, but my knee pain has been bad since I crossed over to MMA. It hasn't stopped me, I'm still whipping dude's a***."
Despite the knee injury, Usman has continued to compete at the highest level, pushing through the pain to secure victories in the Octagon. However, the wear and tear caught up with him during his second outing with Colby Covington at UFC 268, back in November 2021. While Usman emerged victorious in a barn-burning five-rounder via a unanimous decision, he did so with a compromised hand. The welterweight gold may have been won, but the cost was a hand ligament tear. Usman had to endure a difficult operation as a result of the hand injury, and UFC president Dana White also shared photos of the procedure. This has undoubtedly established a continuing danger for the combatant at this point.
Kamaru Usman's career-ending knee injury
As of now, Kamaru Usman is gearing up to avenge the last and the second-ever upset he faced in the UFC, handed to him by Leon Edwards in their rematch at UFC 278. The 35-year-old fighter recently stated that his knee injury contributed substantially to his upset against 'Rocky'. However, the two are meeting for the third time at UFC 286 and just like any other fight fan, UFC commentator Joe Rogan expressed his excitement for this matchup when he was joined by the newly crowned lightweight champion Jamahal Hill on his podcast.
During the episode, the two discussed both the fighters, Edwards and Usman, in-depth. And upon doing so, Rogan pointed out the career-ending injury 'The Nigerian Nightmare' is battling through constantly.
Talking about Usman's knees, the 55-year-old said, "The crazy thing about Kamaru, Kamaru has destroyed knees. His knees are f*cked up, man… He can't move good. It's like he's in constant pain. He fights in pain. Like, his knees are so f*cked up, that he walks downstairs backwards… Yeah, that f*cked up and a world champion."
Rogan added, "He was so f*cked up that he told me that he had to walk on the grass, like, he was next to the side walk, the side walk hurt too much, so he walked on the grass." 
"His cartilage is f*cked. So, he's like, every where he walks, every step, constant pain. Everything, constant pain," further mentioned the UFC commentator.
It certainly seems like 'The Nigerian Nightmare' is fighting a battle within as he prepares for, perhaps the biggest battle of his career so far.
How will the knee problem affect Kamaru Usman at UFC 286?
Kamaru Usman is more than ready to regain his status as the welterweight king and avenge his last loss against Leon Edwards. However, his recent injuries have raised concerns about how they could impact his performance in his upcoming fights.
The knee injury has been a lingering issue for Usman and could significantly affect his mobility in the octagon. Even the UFC fans have expressed their concerns about the recent pictures of Usman's knees that surfaced online ahead of UFC 286. Additionally, he also has to take into account the hand injury, which required surgery and further added to the pile of setbacks for the fighter.
These injuries could prove to be a significant challenge for Usman as he prepares to take on 'Rocky', who is in top form right now, fired up to defend his championship belt. For 'The Nigerian Nightmare', his knee injury, in particular, could affect his ability to move fluidly and execute his signature strikes and takedowns. More so, it might make him more vulnerable to Leon Edwards and more constrained, making it possible for Edwards to turn the fight in his favor with just one imposing attack that could weaken Usman owing to his lingering problems. This is a significant concern, considering that Usman's fighting style is heavily reliant on his explosive movements and grappling skills.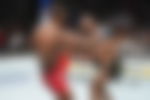 Furthermore, Usman's hand injury could impact his punching power and accuracy, which are both critical components of his fighting style. A weakened hand could make it harder for Usman to land the powerful strikes against the fellow heavy-hitter Edwards.
Having said that, Kamaru Usman's injuries could have a significant impact on his upcoming fights. His knee and hand injuries could affect his mobility, striking power, and accuracy, making it harder for him to execute his signature moves and secure the belt from the Englishman.
Kamaru Usman pictured wearing a hand brace
Kamaru Usman was spotted with braces on both hands during his appearance at Face Off Fight Night 3 in December of last year, confirming rumors of a hand injury.
However, 'The Nigerian Nightmare' and his management, both parties remained tight-lipped about what caused the injury. This even started the speculations of the fighter pulling out from the Leon Edwards rematch. But thankfully, things went well with Usman and it supposedly wasn't anything major.
Kamaru Usman's hand injury rumors "scared" Leon Edwards
Given that Kamaru Usman is no stranger to injuries, his opponent Leon Edwards, just like the fight fans, once fell for second-guessing the possibility of his rematch with 'The Nigerian Nightmare'. In an interview with Sky Sports, 'Rocky' revealed how he once got scared of the fate of his rematch with Kamaru Usman due to Usman's lingering injuries.
ADVERTISEMENT
Article continues below this ad
The Englishman said, "It's always been Kamaru. Some of these rumors popping around on social media saying, 'So, now he's had an injury'. So I phoned the UFC straight away, like, 'What's going on?' Now that I've spoken to him and his team. He's fine, he's back training and he'll be there in March." He then continued, "At the start I was a bit scared, I was like, 'hand injury!'. But after that, yeah, now it's been good."
Nevertheless, UFC 286 is on schedule and Usman seems more than ready to take on 'Rocky'.
ADVERTISEMENT
Article continues below this ad
All the injuries that Kamaru Usman has had
10+ years old knee injury
Hand ligament injury from his rematch against Colby Covington at UFC 268 in November 2021