'When Conor McGregor Fought Cowboy He Looked Like a Lion' – Khabib Nurmagomedov Says Jose Aldo Won't Be Able to Show His Peak Form Again
Published 08/20/2021, 12:32 AM EDT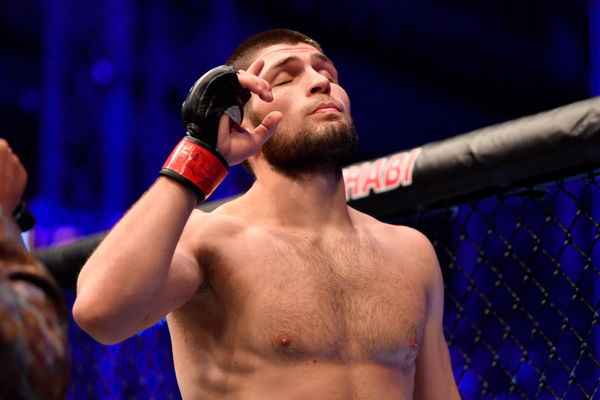 ---
---
Many people consider Jose Aldo to be one of the best fighters to be a part of MMA. Aldo is a former UFC and WEC Featherweight champion and has an MMA record of (30-7). The fighter peaked between 2006 and 2014, remaining undefeated through that time and winning 18 fights in that time. Recently, however, 'Junior' has not been the same and UFC legend Khabib Nurmagomedov was asked about the same.
ADVERTISEMENT
Article continues below this ad
During a recent interview, Nurmagomedov was asked whether Aldo can reach his peak ever again. 'Junior' won his last 2 fights and, therefore, people have been talking about Aldo getting back to the top again. When 'The Eagle' was asked about whether he thinks Aldo is showing signs of reaching his peak again.
ADVERTISEMENT
Article continues below this ad
He said, "How is he showing it? He got beat up when he fought. Who'd he fight? He fought Petr, right? A guy wins one fight and everyone talks. When Conor fought Cowboy. He looked like a lion. When he fights stronger opponents, he looks like a scared chicken."
"Fighting top fighters shows your worth. Like I said – the level of the Russian football team will be shown against Croatia, not Malta. A fight against Cowboy won't show what level you're at, just like Aldo's fight against Pedro Munhoz."
Khabib Nurmagomedov believes Jose Aldo needs to do well against top fighters
Aldo has won his last 2 UFC fights against Pedro Munhoz and Marlon Vera. However, 'The Eagle' believes a victory against Munhoz does not have the same merit as one against someone like Petr Yan.
He said, "Let him fight Petr the same way, and then we can say he's speaking again. You saw what he did; he closed up and waited for the ref to stop the fight. That shows you are not at your peak. If you're getting hit and you're conscious and you're not defending yourself."
ADVERTISEMENT
Article continues below this ad
"I call those fighter businessmen they come out to make money. There are real champions that go hard on everyone. They don't care how the money, of course, is an important aspect, but he has a competitive spirit. So there's no way Aldo's having a second peak. You can try to prove it all you want, but I've been through this. I know better thank you, you're a journalist and I'm a fighter."
Watch This Story: Conor McGregor, Anderson Silva, and Other Fighters Joe Rogan Interviewed After Being Viciously Knocked Out
Nurmagomedov clearly does not believe the 'Junior' is on his way to the top again. And it seems that 'Junior' needs to win against some top opponents to impress 'The Eagle'.
ADVERTISEMENT
Article continues below this ad
Do you agree with Khabib Nurmagomedov about Aldo reaching his peak again? let us know in the comments.