'When Gilbert Hurts You He's a Pitbull'- Kamaru Usman Recalls Almost Getting Rocked by Gilbert Burns at UFC 258
Published 02/18/2021, 8:50 AM EST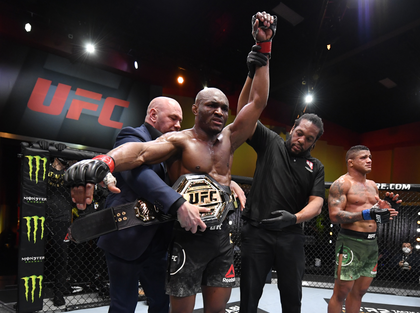 ---
---
UFC welterweight champion Kamaru Usman spoke to ESPN's Brett Okamoto and shed some light about his most recent UFC win. 'The Nigerian Nightmare' defended his belt for the third time against his former teammate Gilbert Burns at UFC 258. The fight initially tipped in favor of Burns. However, Usman managed to reign things back in his own domain.
ADVERTISEMENT
Article continues below this ad
Kamaru Usman stopped Gilbert Burns in the third round via a crisp switch-stance jab that sent the Brazilian to the canvas. Furthermore, Usman laid the foundation for his jab in round 2 and it seemed to pay dividends early on. Usman made sure to definitively put on the pressure after he was badly rocked early on in round one.
Read: When Joe Rogan Went Crazy After Derrick Lewis Pulled Off an Insane Comeback Knock Out of Alexander Volkov
ADVERTISEMENT
Article continues below this ad
Kamaru Usman on being stunned by Gilbert Burns
'The Nigerian Nightmare' has put in numerous rounds of sparring with Burns, however, on Fight Night, things got sketchy. 'Durinho' was potentially on his way towards stopping Usman as he landed some clean shots early. However, Usman's durability was unmatched, and he explained to Brett Okamoto his exact thought process at the time.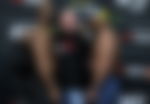 "Even when I was hit with the shot, I knew I wasn't hurt with that, just being able to control the situation. I know Gilbert…I know this guy, obviously granted we haven't really trained together but overall I know him. But now I have to fight this guy, and by me having to fight him, he's a complete stranger now. In my mind, he feels like a complete stranger…
With that being said, it's about controlling what takes place. When Gilbert hurts you, he's a pitbull, he comes to get you out of there.
"I was not happy about it [being rocked]. Like I said, I saw it coming, but it was already in motion. It was one of those things like the rocket is coming, you see it but there is nothing you can do to stop it and he caught me slipping, that's one thing he did very, very well. Gilbert is very explosive, so as far as him covering distance, just like that because he's so explosive and so powerful."
'The Nigerian Nightmare'- 'He Wants to Show Me He's Not 'Little Brother'
Additionally, Kamaru Usman shared his understanding of the dynamism that comes in with fighting a former teammate. Usman believed that Gilbert Burns was keen to show up the champion and establish dominance under the bright lights.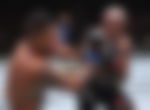 "I knew he was gonna come and show me he's not 'little brother', I'm that guy now. I'm that guy that's gonna take your place so I knew that was gonna happen so part of what we worked all camp was footwork… but that first instance you see it, he's on me, he's putting pressure on me.
ADVERTISEMENT
Article continues below this ad
"You guys know, I'm a pressure fighter so I allowed it cause I know that's what he wants. He wants to show me he's not 'little brother'. He wants 'big brother' to come out and let's duke it out right there."
Kamaru Usman has been a pillar of dominance and he'll look to carry forward this trend as he chases down UFC greatness. He currently sits behind only Anderson Silva for all-time consecutive wins, and that's undoubtedly in esteemed company.
ADVERTISEMENT
Article continues below this ad