Where Is Rafael Fiziev From? What Is His Ethnicity?
Published 03/15/2023, 5:00 PM EDT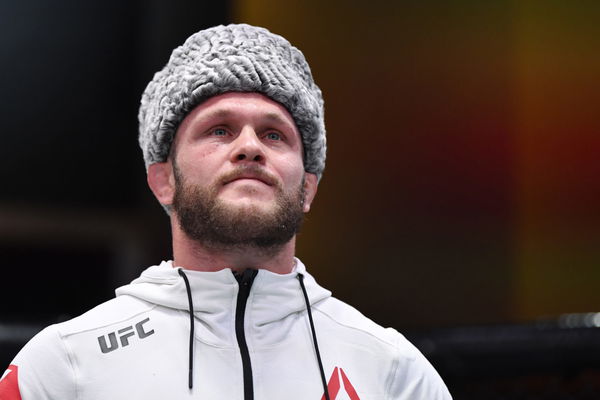 The known UFC Lightweight, Rafael Fiziev, showcased his superb durability and courage in his outing against the noted Rafael dos Anjos at UFC on ESPN 39. 'Ataman' and dos Anjos put on a 4-round slugfest before the latter succumbed to some vicious striking kick from Fiziev in the final round. A lot of UFC fans already know about the stupendous in-octagon striking skills of the 30-year-old.
Post his UFC signing in 2019, Fiziev has provided the audiences with multiple superb in-octagon performances. He finished off his 'UFC on ESPN 31' opponent Brad Riddell with a mind-blowing, spinning wheel-kick. 'Ataman' also showcased his brutal striking against Renato Carneiro, finishing off in the first round itself. His superb prowess in the octagon had caught the eye of a lot of fans over time. Fiziev isn't known for staying in the spotlight much. But, a chunk of UFC fans might be currently rooting to know more about him.
ADVERTISEMENT
Article continues below this ad
All about Rafael Fiziev
Fiziev was born to an Azerbaijani father and a Russian mother. His parents resided in Korday, Kazakhstan at the time of his birth. But, 'Ataman' moved to Bishkek in Valentina Shevchenko's native country of Kyrgyzstan, along with his family while he was a child. Fiziev had his first unofficial sparring session at a pretty tender age as well. Once, his father bought boxing gloves for him and his cousins and asked them to spar. Fiziev used to get beaten up badly, which made him give up such contests.
However, fighting was probably written in his destiny as the 12-1 record holder started getting bullied after going through a change of schools. It was at the age of eleven years when 'Ataman' took up Muay Thai to avoid getting bullied. Although he concentrated on Muay Thai, he also started training in a few other combat sports, which included combat sambo, boxing, Jiu-Jitsu, and wrestling as well. His amazing fight skills finally led him to the grandest stage of all: the UFC.
Where is Rafael Fiziev from?
As already mentioned, the father of 'Ataman' was an Azerbaijani, while his mother was Russian. Also, Fiziev was born in Kazakhstan but grew up primarily in Bishkek of Kyrgyzstan. Hence, there may be multiple answers to this question.
Some fans might answer this as Kazakhstan since it was the country in which Fiziev was born. But fans saying Kyrgyzstan won't be too wrong as well; since 'Ataman' moved to Kyrgyzstan at a very tender age and was brought up mostly there.
So what would be your answer to, where is Rafael Fiziev from?
Where did Rafael Fiziev fight before joining the UFC?
As known to fans, there are only a handful or no fighters who get to start their career in the UFC. Fiziev also wasn't an exception in this regard. The 30-year-old started off by fighting in smaller promotions and finally made his way to the biggest of all.
Fiziev made his debut as a professional fighter in the China-based promotion named W.I.N Fighting Championship. 'Ataman' showcased his Muay Thai background as he finished off his opponent, Sam Bastin, with a flying knee in the very first round of the bout. But that event was the only event ever hosted by W.I.N FC. It caused the 30-year-old to join another promotion named MMA Kyrgyzstan – Boroda.
In his second bout, Fiziev showcased some commendable ground and pound and got the better of his opponent with a rear-naked choke. The Kazakhstani then went on to join, Primal FC, where he scored a knockout victory over the Indian, Suraj Bahadur. Fiziev has also fought 2 bouts under Road FC and one bout under Titan FC before he joined the UFC in 2019. He also maintained an impressive undefeated record prior to his UFC joining.
All you need to know about Rafael Fiziev's next fight at UFC 286
The Kazakhstani-Kyrgyzstani has been matched up against the famed Lightweight, Justin 'The Highlight' Gaethje for the co-main event of UFC 286 on 18 March. The Leon Edwards vs Kamaru Usman headlining event has set up massive expectations among fans regarding its co-main event as well.
Most UFC fans are well aware of 'The Highlight' Gaethje's superb striking prowess. Even the UFC supremo had appreciated the 34-year-old American's striking as he once stated, "Gaethje hits like a truck". He is also considered one of the most furious leg-kickers in the history of the division.
On the other hand, Fiziev is also reputed for his superb striking skills. Apart from his hand strikes, 'Ataman' has also showcased a variety of kicks, which have also proven good enough to shut the lights of the opponents.
ADVERTISEMENT
Article continues below this ad
Watch this Story – Everything to know about Conor McGregor-Michael Chandler TUF 31
A lot of fans might agree that the pre-bout skill analysis of the fighters increases the excitement. Both fighters are lethal strikers, which somewhere will have the fans looking for a striking-heavy enthraller between Gaethje and Fiziev.
ADVERTISEMENT
Article continues below this ad
Edited By: Vineet Nandwana