Why Did Dana White Ban Ariel Helwani From UFC Press Conference?
Published 02/18/2021, 8:59 AM EST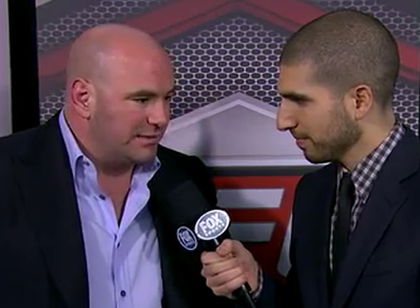 ---
---
Dana White and top MMA journalist Ariel Helwani have been at opposite ends of the yardstick for a long time. However, this wasn't always the case, as the UFC President and Helwani were once the dynamic duo breaking headlines. There have been certain defining moments that led to the demise of their relationship, and it came to a head in 2016.
ADVERTISEMENT
Article continues below this ad
Chiefly, it's important to note that there are several crossroads moments that came in the way of their relationship over time. However, Ariel Helwani's report of Brock Lesnar's return to the UFC at UFC 200 was the final straw. The news was supposed to be kept under wraps, and Dana White went public calling it a 'weasel move'.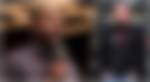 ADVERTISEMENT
Article continues below this ad
White would go on to hand out a lifetime ban from UFC events to Ariel Helwani and revoked his media credentials. Additionally, this came in as a tailspin for Helwani, who was fired from his job at FOX at the time. FOX had a broadcasting deal with the UFC, and Dana White made sure Helwani's time on-air was terminated.
Dana White vs Ariel Helwani: An ugly spat
While the aforementioned incident is well documented as the breaking point for their relationship, things soured before that. Chiefly, Ariel Helwani has faced criticism from Dana White and other fighters like Nate Diaz for being an instigator. Chiefly, Helwani's time at FOX and the possible conflict of interest that arose came in to bite him.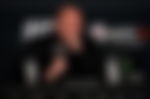 The Ariel Helwani breakdown
Ariel Helwani spoke to Stephen Brunt on Open Invitation and provided an extensive career overview. He revealed that the deterioration of his relationship with Dana White began prior to UFC 200. While it's only one side of the story, White hasn't come out explicitly denied or corroborated Helwani's version of events.
"The beginning of the change of the relationship happened when FOX became the broadcast partner of the UFC. I've often thought of my decision to work for FOX because that made it a little too, for a lack of a better word, incestuous…
"My position with FOX brought about expectations on the UFC side of things to be a certain way and report a certain way. There was never any discussion about what I could say and not say but I think there was an assumption on this side of things."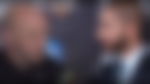 ADVERTISEMENT
Article continues below this ad
"March of 2016, they asked FOX to let me go and FOX obliged. That kind of really…that was the dissolving of the relationship and then after that…my approach was to break every single story out there. And again, I'm not talking about dark and dirty secrets, I'm talking about this guy fighting this guy."
Several years removed from the aforementioned sequence of events, Helwani and White are still on opposite ends of the spectrum. The UFC and Helwani have both moved on to ESPN, and this hasn't given any room to repair their relationship. While the toxicity isn't what it once was, it doesn't seem like there's room for reconciliation any time soon.
ADVERTISEMENT
Article continues below this ad