Why Did Joanna Jedrzejczyk's Engagement With Polish Soccer Star Przemysław Buta Break Off?
Published 06/09/2022, 9:00 AM EDT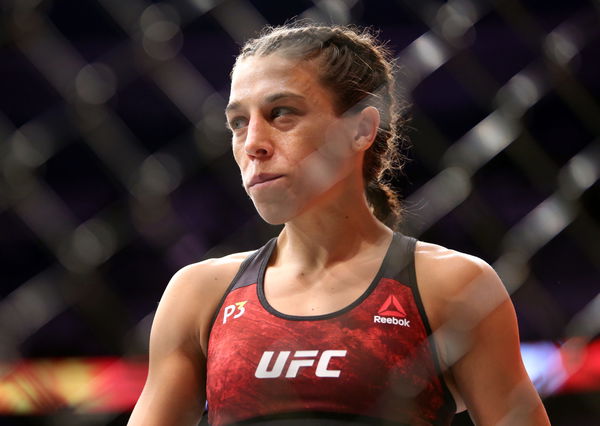 After spending nearly 2 years away from the octagon, former UFC strawweight champion Joanna Jedrzejczyk is making a return. Jedrzejczyk has done it all in the promotion right from being a champion to still holding the record of the highest title defenses in the 115 lbs weight category.
ADVERTISEMENT
Article continues below this ad
The strawweight division hasn't been the same without Jedrzejczyk, as the title has changed hands multiple times. However, her return to the octagon at UFC 275 will once again bring her closer to the world title.
ADVERTISEMENT
Article continues below this ad
Apart from her career as a UFC fighter, Jedrzejczyk has built her life as an entrepreneur and even made her debut as an off-road rally racer.
How did Joanna Jedrzejczyk's personal life impact her career?
As per a report by The Sun, Jedrzejczyk has previously stated that her fallout with her ex-fiance, Przemysław Buta, impacted her performance against Rose Namajunas. Since then, she has struggled to stitch together a winning streak.
She said, "The last two years were pretty difficult for me. It was a rough time, and I feel like 2019 is a special year, so I can't wait for 2020. I broke up with my fiance, and we broke up before my first fight with Rose Namajunas, and this terrible weight cut happened, and I broke up again. This year I found out that my [previous Polish] manager messed up my money, and then I found out that my fiance was cheating on me."
Jedrzejczyk broke up with his then-fiancee as he found out that he was 'cheating' on him and this affected her deeply.
A few months ago, Jedrzejczyk shed light on her dating during Eagle FC 46 media scrum. She was quizzed about her dating life, and the former champion refused to divulge any information. It doesn't seem like she is dating anyone at the moment, as the mixed martial artist is gearing up to continue her career as a UFC fighter.
Who was Joanna Jedrzejczyk Coach?
The polish mixed martial artist still trains out of the American Top Team situated in South Florida under the tutelage of Mike Brown. ATT is home to too many UFC stars and world champions who have left an everlasting mark on the sport.
Are Joanna
Jedrzejczyk
and Mike Brown on good terms?
Jedrzejczyk continues to train under Brown and is still a key member of ATT. According to information from the official website, she first joined the gym back in 2016 and enjoys a great relationship with her coaches and peers. Brown has been in her corner through thick and thin, which only suggests that the duo enjoys a great bond. 
As per a report by MMA junkie, Brown backs her star pupil and believes she deserves only marquee names. He said, "She's been there, done that, done it all. She was a UFC champion for many years and is maybe tied for most title fights – she's up there for one of the most decorated female fighters of all time, and it's gotta be something big to draw her in. She's not gonna fight some small rinky-dink fight that doesn't mean anything."
ADVERTISEMENT
Article continues below this ad
Brown believes her fighter has proved herself at the top level and deserves nothing but high-profile matches.
Which UFC fighters are on Joanna's coach's team?
American Top Team houses a range of phenomenal UFC fighters starting from UFC title challengers in Dustin Poirier and Jorge Masvidal. More marquee names on the roster include Pedro Munhoz, Marlon Moraes, Edson Barboza, Mosvar Evloev, Renato Carneiro and many more.
ADVERTISEMENT
Article continues below this ad
Watch this story: When was the Last Time UFC Held an Event in Singapore?
Do you think Jedrzejczyk can pick up a win this weekend against rival Zhang Weili? Share your thoughts in the comments below.