Why Did Nick Diaz Call Georges St. Pierre a B**** and Cheater After Retirement?
Published 09/12/2021, 12:17 PM EDT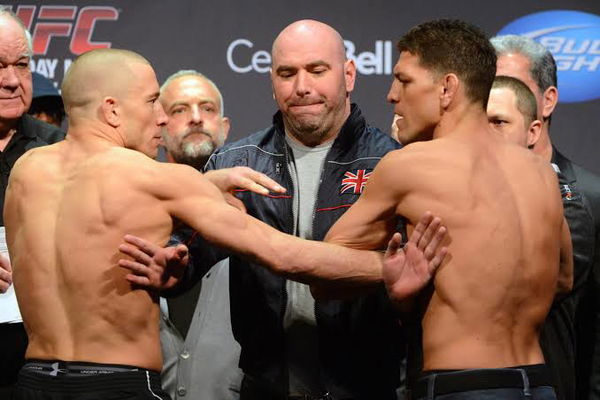 Former welterweight and middleweight champion Georges St-Pierre is widely regarded as one of the best fighters in MMA history. In February 2019, the UFC Hall of Famer announced his retirement. His most recent fight was a technical submission victory against Michael Bisping. However, his beef with Nick Diaz is one of the most interesting things in the UFC.
What's the beef with Nick Diaz and GSP?
Nick Diaz and Georges St-Pierre have a long-standing rivalry in the UFC. His former competitor, Diaz reacted to the news of St-Pierre's retirement on social media. Diaz trolled the Canadian by saying, "Congrats nice to see someone leave well enough alone for once", on his Instagram story. Georges St. Pierre and Nick went head to head at UFC 158, where GSP walked away victorious.
ADVERTISEMENT
Article continues below this ad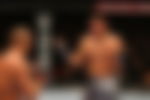 Diaz didn't spot trolling his rival yet. He called him a 'bi***' and a 'cheater'. He said that St Pierre "fights like a bi*** and always has". Nick and St-Pierre have always had bad blood and Nick has been more vocal about it. He has made many other claims on the Canadian in the past as well. Diaz said, "I fought him and he cheats to fuck your bi*** ass sport I fight for real and I won I don't play ball life's not a game the UFC is." 
Diaz believes that Georges St-Pierre is a cheater and has also once claimed that the Canadian uses steroids on The Fan 590, a radio station. Nick said, "I believe that he's on plenty of steroids, and I don't believe they've tested him as well. I don't care what they're saying or marketing to the media. I don't think either of us are going to be tested. And if so, he's probably got a bottle of piss in his pocket. I doubt they're standing over him, making sure he's not on steroids."
Nick's upcoming fight
ADVERTISEMENT
Article continues below this ad
Nick Diaz was one of the most entertaining competitors in the sport of MMA; at least during his best years in the UFC. In the UFC, Nick Diaz is famous for his wisecracks and trash-talking and has a propensity for dissing his opponents. Diaz's last fight in the octagon was against Anderson Silva at UFC 183 in January 2015, and he hasn't competed since.
The fight was initially declared a unanimous decision win for 'The Spider,' but the outcome was later overturned to a no-contest after Silva tested positive for banned substances and Nick tested positive for marijuana. Nick Diaz will finally step back into the octagon on the main card of UFC 266 against Robbie "Ruthless" Lawler on the 25th of September in Las Vegas. This is a rematch of their first fight, in which Nick defeated Lawler via knockout at UFC 47.
ADVERTISEMENT
Article continues below this ad
All fans are excited about this matchup even though Lawler and Diaz aren't in form.