'Why Wouldn't the Original Game Plan Work?' – Curtis Blaydes Confident of Stipe Miocic Defeating Francis Ngannou
Published 02/17/2021, 1:35 PM EST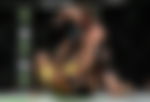 ---
---
The upcoming UFC events feature a ton of action in the heavyweight division, all of which will culminate with a fight for the title. Curtis Blaydes, who takes on Derrick Lewis this weekend, has given his opinion on how the rematch between Francis Ngannou and Stipe Miocic will go. Blaydes believes Ngannou doesn't have what it takes to produce a different outcome than the first meeting.
ADVERTISEMENT
Article continues below this ad
Speaking to ESPN MMA, Blaydes predicted the winner of the rematch between Ngannou and Miocic, which takes place at UFC 260 next month. The first meeting between the two resulted in a one-sided drubbing of 'The Nigerian'. While Ngannou has been on a tear recently, raking up wins one after the other, Blaydes doesn't think he can match up to Miocic's wrestling.
Stipe-Ngannou on the horizon… 🌅

Which heavyweight will put themself next in line? 🏆 #UFCVegas19 pic.twitter.com/vqZ4cStXTA

— UFC (@ufc) February 16, 2021
ADVERTISEMENT
Article continues below this ad
"I think it will be Stipe again. Why wouldn't the original game plan work this time? I said this about Derrick [Lewis] that it takes years and years to develop the muscle memory needed to be able to defend against a wrestler like Stipe," Blaydes said.
Curtis Blaydes talks about the time when he wrestled Stipe Miocic
Often referred to as the heavyweight version of Khabib Nurmagomedov, Curtis Blaydes has one of the best offensive wrestling among the top-tier heavyweights of the UFC. While he possesses the one-punch knockout power, his wrestling background gives him the liberty to take the fight wherever he desires.
When he was still an amateur, 'Razor' once helped Stipe Miocic prepare for one of his fights. Even though Miocic wasn't a UFC champion back then, he was still piecing up an amateur Blaydes.
ADVERTISEMENT
Article continues below this ad
"I actually have trained with Stipe. This was years and years ago. But even then I can tell that he is a very good wrestler. It was when he was preparing for the Gabriel Gonzaga fight and he brought me in because I'm a grappler. I'm not a jiu-jitsu guy, but I could take him down," Blaydes added.
Blaydes has won four straight fights in the UFC and eight out of his last nine. The lone defeat in this stretch has been against the next title challenger, Francis Ngannou. Even if he wins this weekend, Blaydes knows the title shot will stay out of reach for the time being. This is because Dana White has already announced that Jon Jones will fight the winner of Miocic vs Ngannou.
ADVERTISEMENT
Article continues below this ad
Read More: A Look into Stipe Miocic and His Fire Fighting Career