'Wolf Tickets': UFC Fans React as Dana White Teases Robert Whittaker vs. Khamzat Chimaev Next
Published 12/29/2022, 1:45 PM EST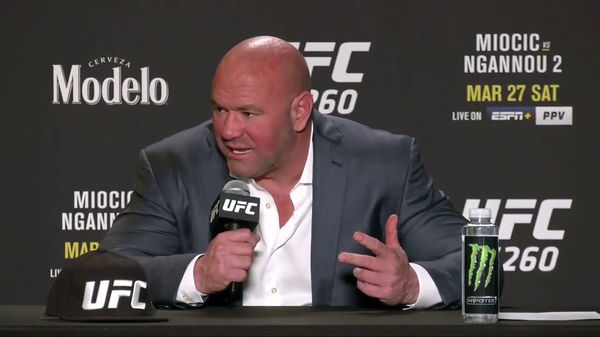 UFC President Dana White recently posted a video on Instagram promoting his new slap-fighting company, PowerSlap. A user on the platform commented on his post asking for a match between undefeated Khamzat Chimaev and former middleweight champion, Robert Whittaker. White gave a cheeky reply to that user's comment.
Khamzat Chimaev is in search of a fight. He claimed on social media that nobody wants to fight him. And fans are clamoring for a match between the Russian-born Swedish fighter and Robert Whittaker. Both fighters have maintained cordial relationships with each other. Chimaev even stated that he'd rather train than fight with Whittaker.
ADVERTISEMENT
Article continues below this ad
Many believe that Khamzat vs Whittaker is one of the most interesting bouts in MMA today. Chimaev was offered to different fighters, but none of them wanted to go face-to-face against him according to 'Borz'. Robert Whittaker is a bona fide mixed martial artist and is a former UFC middleweight champion.
Fans react to Dana White responding to an Instagram user
While on Dana White's Instagram post, a fan commented, "Dana hear me out, Khamzat Bobby knuckles Perth. Just saying." The UFC President replied with two fist emojis. He had acknowledged the possibility of that fight but didn't confirm it.
The 53-year-old promoter's comment sparked a lot of reactions from Reddit users. Here are some of the fan reactions from Reddit.
ADVERTISEMENT
Article continues below this ad
Wolf tickets.
I mean sh*t if he can't make 170 reliably then this is the only fight for him to set up title shot after Izzy's rematch
Burns almost killed khamzat, Whittaker by tko later rounds
Whittaker wont TKO but he will put a beating on khamzat. Khamzat will spend all his energy in trying to tale down whittaker unsuccessfully in 1st round and get beat up by robert in 2nd,3rd
Whittaker hasn't had a tko in years lmao. And burns didn't "nearly kill" khamzat it was a close fight. If that's how you saw it Khamzat "nearly killed" burns too.
Khamzat had a hard time against an undersized welterweight he won't win a fight with rob
While there were many fans who believed that Khamzat Chimaev was 'almost killed' by Gilbert Burns at UFC 273, there were others who believed that the fighter could do well against Robert Whittaker. Some fans also pointed out Chimaev's difficulties in dealing with undersized welterweight opponents and claim that he won't be able to handle the former middleweight champion.
ADVERTISEMENT
Article continues below this ad
Chimaev still hasn't had a confirmed opponent for his next fight and there hasn't been any confirmation from Dana White regarding a potential fight between the Swedish fighter and Whittaker. What are your thoughts? Drop your comments down below.
WATCH THIS STORY: "WTF Is This Madness Dana"- Despite Being Bewildered by Dana Whites Power Slap, Conor McGregor Is 'in' With the League
Edited By: Vineet Nandwana