WOW! Khabib Nurmagomedov Gets an Offer to Play Football at FC Legion Dynamo
Published 06/06/2021, 12:54 PM EDT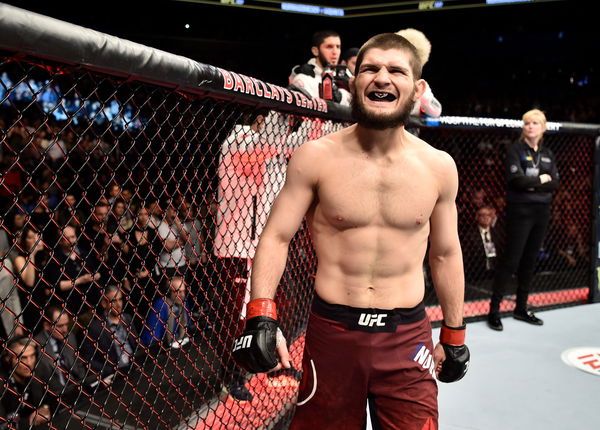 ---
---
Khabib Nurmagomedov is one of the greatest fighters of all time. He almost certainly is the greatest lightweight ever to do it, but now, he might challenge himself in another sport. He uploaded a video of him playing football on his Instagram page, which caused a media storm and resulted in a contract offer for the Russian fighter.
ADVERTISEMENT
Article continues below this ad
Shamil Lakhiyalov, the owner of FC Legion Dynamo, spoke to RT Sport MMA about his new transfer target. The interview was originally conducted in Russian, but RT Sport provided the subtitles for the same in English. The reporter asked him about the origin of his idea to sign Khabib, and Lakhiyalov answered.
ADVERTISEMENT
Article continues below this ad
"I had this idea for a while. I took steps towards making it happen but couldn't get it done," he said. He also mentioned how Khabib tagged the club in the aforementioned Instagram post and asked the club to motivate him. "I immediately thought of offering him a contract, and that would motivate him to play his first pro game in his native republic, his hometown stadium, Dynamo."
Lakhiyalov called Khabib Dagaestan's hometown hero and added that they would be a great match together as his club is a people's team.
The reporter asked him if Khabib could make it in the third tier of Russian football, and the owner was optimistic. "He's got skills, judging by the football videos that he uploads. I'm not sure. First, he has to go through training. I think the qualities that he has will help him play at that level," Lakhiyalov said.
Watch this story: A brief history of the controversial friendship between Floyd Mayweather and 50 Cent
Shamil Lakhiyalov believes that money isn't important for Khabib Nurmagomedov.
All of this sounded good theoretically, but practically, it would be hard for Dynamo to sign Khabib because of the financial ask of the operation. The reporter asked Lakhiyalov how he would accomplish this and how much would he pay Khabib.
ADVERTISEMENT
Article continues below this ad
"We're not financially stable as a club. We have one of the smallest budgets, not just in Russia but (in) the world. We know that Khabib is well-off financially, and money isn't the most important thing to him," he answered. He added that he was banking on Khabib's passion for the sport.
He concluded by talking about possible sponsorships and said that sponsors would come running if they did sign Khabib. It would be fun to see Khabib Nurmagomedov playing on a football field. Now the question is, will Khabib do it?
ADVERTISEMENT
Article continues below this ad
How much would you pay to watch Khabib play football?