"WTF…": Basketball and MMA Fans Left Scratching Their Heads as Absurd Sport Format Goes Viral
Published 01/24/2023, 3:30 PM EST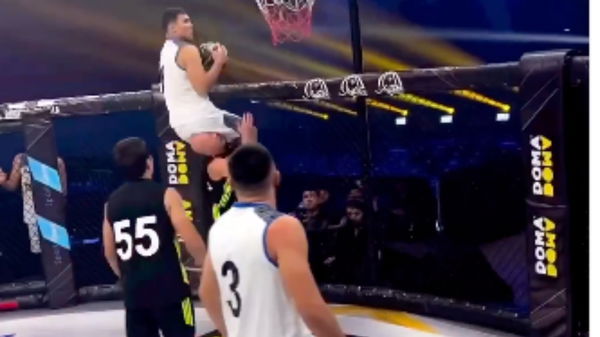 The current times see fans being introduced to a whole new series of sports. Dana White has also come up with his own league. The Power Slap League is widely criticized by fans all around the world. However, there are some fans that might want to watch a new type of sport introduced to the world. In a similar incident, Kazakhistan saw one new sport in MMA introduced to the viewers. This sport is a hybrid of wrestling and basketball. Yes, you heard that right. Nazia Fighting Championship (Kazakhistan promotion) has come up with a bizarre sport to which fans have given their opinion.
Fans react to a new sport in the combat world
The fans, upon seeing the video of the bizarre hybrid of basketball and wrestling, gave their hilarious reactions. Also, some fans provided their opinion on the new sport seen by the public.
ADVERTISEMENT
Article continues below this ad
One fan added, "They stole the idea from County jails." Furthermore, there were some fans who called the sport by MMA's wrestling king's home. They said, "This is actually not a new thing, it's called Dagestani Basketball." While another social media user added, "Dagestani basketball".
 

View this post on Instagram

 
There were some critics of PowerSlap League too. They said, "Better than slapping."
Similarly, another fan added positive feedback about the sport. They said, "That's crazy, I suppose it's better than slapping contest. Anyway i like basketball and I like mixed martial arts good little mix of the two."
Hilariously, one fan added, "No way they made Khabib ball a sport". While another fan commented, "Wtf… ok now this goes over the line".
Moreover, one fan added, "Would rather watch this than the slap bullsh*t".
New sports may not be welcomed by the fans
ADVERTISEMENT
Article continues below this ad
The introduction of new types of MMA competitions is always a risk that the promotions are taking. A cross-promotional event, for example, was taken well by the fans and in fact, would love to see more of them. However, a hybrid between two sports or a new sport with new rules may not be received by the fans in a good way.
This is evident from the reception of Dana White's Power Slap League, as it has not gone down well with fans and fighters. There are numerous critics by the fighters and ex-fighters calling it a 'train-wreck'.
ADVERTISEMENT
Article continues below this ad
Watch This Story: Rogan Shares His Post-Divorce Plans, Dana White Speaks out About His Personal Life, Nate Diaz Exposes the Paul Family.
What do you think about such new leagues? Let us know what you think.
Edited By: Debmallya Chakraborty