'WTF is Going On Here?' – Dana White Uploads Latest Picture With Floyd Mayweather
Published 04/07/2021, 11:46 AM EDT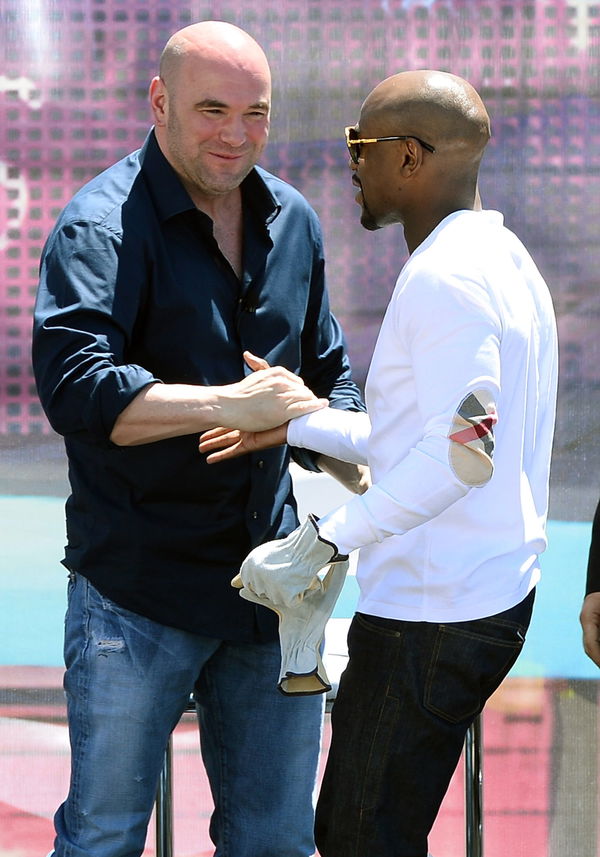 ---
---
Recently Dana White posted a picture on his Instagram, and this generated a tremendous amount of buzz in the sporting world. The photo shared by White was of him with boxing superstar Floyd Mayweather and president of Rizin Fighting Federation, Nobuyuki Sakakibara.
ADVERTISEMENT
Article continues below this ad
As soon as the post went up, combat sports fans from all around the world started speculating. Fans are eager to know why the meeting took place and is there some sort of deal happening between the three.
 

View this post on Instagram

 
ADVERTISEMENT
Article continues below this ad
White wrote, "Holy S*it, WTF is going on here." this has led many fans to believe that there surely is something more to the picture. It does not seem like the three ended up at the same place at the same time, rather it looked like a planned meeting.
The UFC is planning something big again?
The year 2020 showed us how good of a business owner White is, and the UFC has cracked the code of success in these tough times. Last year when all sports suffered great losses and everything had stopped because of the pandemic, the UFC boomed. It was the only sport that not only sustained itself but actually became more popular during the pandemic.
This is not the first time Mayweather and UFC have been involved, as Mayweather had fought former UFC champion, Conor McGregor. After that speculation had been made that Nurmagomedov is also going to face the boxing icon, and his manager Ali Abdelaziz even commented on the same.
"We got offered a hundred million dollars to fight Floyd Mayweather, Dana White is on board, everyone is on board, but you know Khabib is an MMA fighter If Floyd wants to come to fight, get his little ass whooped, no problem," he said.
This photo shows us that the UFC is at it again and that a potential team-up with the Floyd 'Money' Mayweather is on the cards. This time around, the third person in the picture gives us some idea of what the future holds for them.
Nobuyuki Sakakibara being there makes this deal look even more complete as Mayweather has competed in Rizin before and that could help moving forward.
Could Dana White and Floyd Mayweather have worked together before?
This is not the first time White and Mayweather have come together. The pair had previously met in 2019 during a Boston Celtics vs Los Angeles clippers match. Both of them have always shown a desire to work with each other and when they met in 2019 a deal between the two looked like a real possibility.
Dana White had talked about what they discussed at the match, "We sat at the Clippers game. We started talking, and we literally got a deal done right there on the court. Shook hands.
ADVERTISEMENT
Article continues below this ad
"We have a deal. And if things play out the way Floyd and I think they will, I'll probably sit down with Al Haymon in March and get a deal on paper." White said.
Let's see how the next few months play out. We could be doing something fun, probably. I think if everything goes our way, Floyd and I would be doing something in October or November."
Dana White had even said that the UFC and Floyd Mayweather might do something fun. But then the pandemic hit, and that seems to be the reason that the two parties could not come together.
ADVERTISEMENT
Article continues below this ad
Now finally we have White and Mayweather in the same place. And with Sakakibara being there with them, it seems like a team-up between the three parties is a high possibility.