'You Big Spotty Back Pox!'- Conor McGregor and Kamaru Usman Trade Verbal Blows with Each Other
Published 04/25/2021, 11:43 PM EDT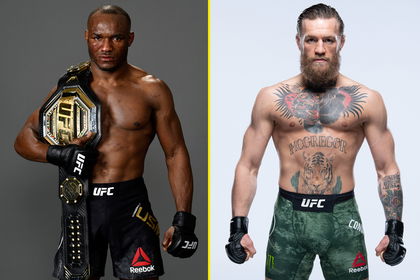 ---
---
UFC lightweight star, Conor McGregor, and welterweight champion, Kamaru Usman, have traded blows on Twitter following McGregor's recent Twitter takes. 'The Notorious' fired off on social media after Kamaru Usman defended his welterweight strap for the fourth time at UFC 261. Usman won the fight with a well-placed right hand that put Miami's finest to sleep.
ADVERTISEMENT
Article continues below this ad
Following Usman's win, the entire MMA community came out in full force and lauded him for his dominant victory. However, Conor McGregor wasn't too impressed and believed he could replicate his success easily. 'The Nigerian Nightmare' clapped back at the Irishman and had fighting words for Conor McGregor that may set up a future fight.
Except when I touch you at 170, they go out. They don't even go out at 155 anymore for you. I finish people. You get finished. https://t.co/URd8wTHvyZ

— KAMARU USMAN (@USMAN84kg) April 26, 2021
ADVERTISEMENT
Article continues below this ad
Conor McGregor isn't one to take insults laying down and a back and forth ensued. It's clear that 'The Notorious' believes he's a formidable force at 170-pounds and has what it takes to defeat the active champion. However, he must first get through his upcoming bout against Dustin Poirier, which is scheduled at lightweight.
Relax there, carbuncles. You big spotty back pox. You were ringside last time I fought at 170. 40 seconds is all it took. Why did you reschedule Burns fight ? What was the reason, that was never given to the public, why that already signed fight was then rescheduled? https://t.co/RDv3RtaO97

— Conor McGregor (@TheNotoriousMMA) April 26, 2021
I offered you the fight and you went missing. Let's stay humble young man. I already took your pride. Don't make me take your whiskey too 😉 https://t.co/pHjquMBEuv

— KAMARU USMAN (@USMAN84kg) April 26, 2021
Conor McGregor x Kamaru Usman: A potential super fight of epic proportion
Given the way Kamaru Usman has been performing as of late, he slowly becoming a bonafide star simply by virtue of his octagon showcases. He's fresh off back-to-back KO/TKO wins over two top contenders, and fans have begun taking notice. It seems like the days of Kamaru 'Snoozeman' are behind him, looking at his recent win rate.
ADVERTISEMENT
Article continues below this ad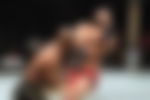 Conor McGregor is synonymous with super fights, and his win-loss rate doesn't really affect his ability to draw at the box office. It wouldn't be too hard to sell a fight between McGregor and Usman, since it would be a chance for 'The Notorious' to become the first triple champion. Conor McGregor's last fight at welterweight against Donald Cerrone lasted no more than 40 seconds and was exceedingly impressive.
However, for the fight to come to fruition, Conor McGregor would need to etch out a win against Dustin Poirier. What's more, defeating Poirier at UFC 264 would likely open the door to McGregor fighting for the lightweight title. This would mean a 'champion vs champion' super fight, and who wouldn't want to see that?
ADVERTISEMENT
Article continues below this ad