'You Guys Cannot Box for Sh*t' – Jake Paul Hits Out at Vitor Belfort and Other 'Bi**h A*s' MMA Fighters
Published 09/15/2021, 1:06 PM EDT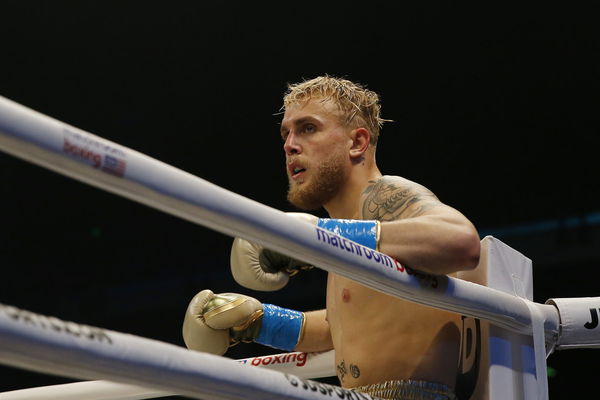 Jake Paul is one of the most flamboyant personalities to be a part of combat sports. The YouTuber turned boxer is always amongst the most talked about fighters and consistently grabs headlines. Recently, the fighter had appeared on The MMA Hour with Ariel Helwani, where he got a message from former UFC champion Vitor Belfort.
Belfort had earlier called out 'The Problem Child' after he defeated Evander Holyfield at Triller's boxing event. Now the former UFC champion followed it up with a message he sent to Helwani during Jake Paul's appearance on the show.
ADVERTISEMENT
Article continues below this ad
"Tell my son to don't run away. To meet his daddy. There is no way out. I got $30 million, winner takes all." Belfort texted Helwani.
Paul responded to the message right then and called out Belfort and other MMA fighters for their 'poor boxing skills'.
He said, "Cool, put it into escrow. No problem. Let's see the proof of funds in escrow. The notion that these MMA fighters think that I'm scared of them is funny or like I'm running away from them. Like dude, I've fought 4 times in the past 2 years."
After Vitor Belfort TKO'd boxing legend Evander Holyfield, the head of an boxing organization offers Jake Paul $30 Million dollars to fight Victor next 💰 Winner takes all pic.twitter.com/OEHkRLDrye

— My Mixtapez (@mymixtapez) September 12, 2021
"You can't even really fight more than that if you're doing big fights. I'm going back to back to back on these bit*h a*s MMA fighters. Like line them up, I will take all of them down. You guys cannot box, I out-boxed a 5-time UFC fu*king champion."
Jake Paul talks about defeating Tyron Woodley
In his last fight 'The Problem Child' faced former UFC champion, Tyron Woodley. Woodley is well known for his striking capabilities and many believed he would be the one to defeat Paul. However, that wasn't the case, as Paul won the fight via a split decision.
ADVERTISEMENT
Article continues below this ad
Therefore, as 'The Problem Child' defeated one of the best UFC fighters of all time. He is confident that he can take on someone like Belfort and easily defeat him.
He said, "Vitor Belfort didn't even get close to winning that many championships. The notion that you guys are scared, you guys cannot box for sh*t. There was not one moment in the fight where Tyron was out-boxing me, not one."
ADVERTISEMENT
Article continues below this ad
"The notion that you guys are scared, I just took out one of your best fighters' hall of fame of all time and sh*t all over him on a bad night with a hyper-extended elbow. So fu*k all of you."
What do you think of Jake Paul's opinion? Let us know in the comments.