"You Mean a Politician Said Something They Ran on…" – Aaron Rodgers Comments on Brittney Griner Situation While Joe Rogan Points Out Its 'Hypocrisy'
Published 08/29/2022, 1:30 PM EDT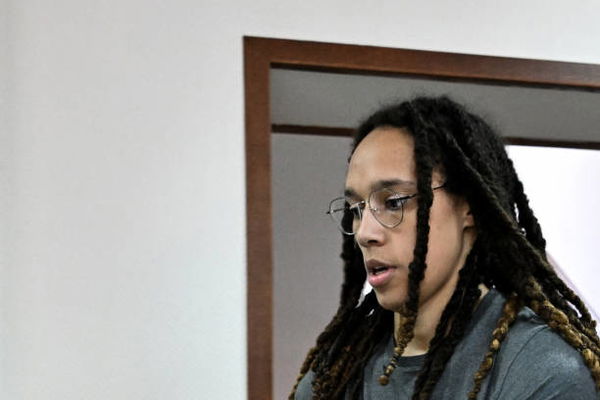 Brittney Griner, a well-known WNBA player, is currently going through a difficult time in her life. After she was discovered in possession of some illegal substances at the Russian airport, she was given a 9-year prison sentence.
In America, the news generated waves. Numerous politicians, athletes, and celebrities have already shared their opinions on the subject. Even the well-known color commentator of the UFC, Joe Rogan, discussed the Griner case on his popular podcast, 'The Joe Rogan Experience' on Spotify.
ADVERTISEMENT
Article continues below this ad
Every time the 55-year-old podcaster brought up the WNBA star, he came across as supportive. Even in the most recent episode of his show, which featured NFL legend Aaron Rodgers, Rogan defended Griner and slammed the American government's hypocrisy.
"The hypocrisy about the Brittney Griner situation was so egregious in this country, where Kamala Harris is talking about how horrible it is that Brittney Griner is in jail," Rogan said. 
"You put people in jail. You did thousands of people in jail for marijuana… It's crazy. Like this student, loan debt forgiveness, that's great. But how come you guys didn't exonerate people that were in jail for marijuana? When you said you were going to make marijuana federally legal. None of that has happened," Rogan added. 
After that, the Green Bay Packers quarterback took a subtle dig at politicians. He replied, "You mean a politician said something they ran on and didn't actually enact that said policy?"
"I know it's crazy really happens, but occasionally you catch them," Rogan replied. 
The Joe Rogan Experience podcast is not number one anymore
The UFC color commentator started his podcast on YouTube over a decade ago. Later, he signed an exclusive deal with Spotify as the podcast gained a loyal global fan base.
Meghan Markle sat down with her long-term friend Serena Williams for the first episode of her new podcast "Archetypes". The podcast covers the misogyny women endure through everyday life. In the first episode, Markle and Williams discuss stigmas about successful women. pic.twitter.com/4sB3VAQiAQ

— EBONY MAGAZINE (@EBONYMag) August 24, 2022
ADVERTISEMENT
Article continues below this ad
Today The Joe Rogan Experience is one of the most widely heard podcasts on the streaming platform. It was also number one on the UK and US charts. However, the podcast has recently been dethroned from the position by a new show.
ALSO READ: From Brock Lesnar to Sylvester Stallone: Expected Upcoming Guests on The Joe Rogan Experience Podcast on Spotify
The top podcast in the US and UK right now is Meghan Markle's "Archetype." It outperformed Rogan's show, which is now ranked second. However, the UFC commentator has a sizable following. He had previously been removed from the position. But the program bounced back to the number one position in a short time.
ADVERTISEMENT
Article continues below this ad
Do you guys think Rogan's show will be back in the top position in the Spotify charts? What are your thoughts on Rogan and Rodgers's words on Griner's case? Let us know in the comments section below.
WATCH THIS STORY: Conor McGregor, Tiger Woods, Floyd Mayweather others. Every Athlete who has earned more than $100 million in a year