"Patrick Mahomes Made 5 Million to Say 'I'm Going to Disneyland' After Winning the Superbowl" – KC Chiefs Star's Shenanigans Draw Hilarious Reactions From UFC Fighter and Fans
Published 02/18/2023, 2:45 PM EST

Follow Us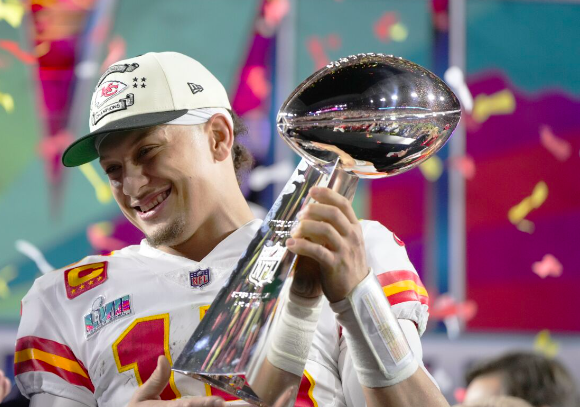 Kansas City Chiefs have won the 2022 NFL season. The Super Bowl was a riveting game with the final difference between the Chiefs and Philadelphia Eagles being only 3 points. The Eagles went into halftime with a 24-14 lead, but the Chiefs mounted a comeback and won the super bowl. Patrick Mahomes played a pivotal role in the victory and was named the Most Valuable player for the night. After winning the trophy, Mahomes said, "I'm going to Disneyland!". While the words are connected to NFL traditions, UFC bantamweight Brian Kelleher claimed that Mahomes got $5 million to say that.
Patrick mahomes made 5 million to say " I'm going to Disneyland" after winning the Super Bowl

— Brian BOOM Kelleher (@brianboom135) February 18, 2023
ADVERTISEMENT
Article continues below this ad
Patrick Mahomes was seen in Disneyland the next day with his two kids. He was seen atop the Kansas City Chiefs float with Mickey and Minnie in the parade. Mahomes saying he was going to Disneyland was the continuation of an old NFL tradition that dates back to 1987.
UFC Bantamweight thinks Mahomes got paid
Brian Kelleher, however, posted on Twitter claiming that Mahomes got 5 million dollars for saying he was going to Disneyland. The tradition started at Super Bowl XXI. New York Giants Quarter Back Phil Simms was made to say, "I'm going to Disneyland" on camera and the footage was played as a commercial shortly after. The tradition has since been carried on.
Quarterbacks from the teams that win the NFL are heard saying the words. At least one member of the team appears in one or both of the Disney theme parks.
The biggest stars of the game, like Tom Brady, John Elway, and Joe Montana, have all said the words. The phrase is so popular that Mahomes once tweeted about saying the words. He first got to say the words in 2020 and, given his form, he might utter the words a few more times before he retires.
Fans reacted to Patrick Mahomes' statement. A fan suggested he should have gone to universal studios once he finishes with all the Disney parks.
I'm going to Universal Studios!

— how do i make me love me? (@HeelSonne) February 14, 2023
Another fan commented, with hopes that he will have to find a few more places to go to after winning a few more seasons.
He's not running out of amusement parks. There's so many here in America and many more in other countries.

— TripleLoopingCoaster (@TriLoopCoaster) February 13, 2023
ADVERTISEMENT
Article continues below this ad
Brian Kelleher has had a long career MMA career
UFC bantamweight Brian Kelleher had a keen eye on the Super Bowl and he will have an eye on his next fight too. He has been on a two-fight losing streak. The last year has been a year he would like to forget as he lost two fights. He lost to Umar Nurmagomedov in March and to Maurio Bautista in June, 2022.
ADVERTISEMENT
Article continues below this ad
While Patrick Mahomes and the Kansas City Chiefs will be focussing on the next season, Brian Kelleher will try to snap out of his losing streak. Who do you think will go to Disney land next season? Who will Kelleher fight next? Let us know.
Watch This Story: UFC world reacts to Dana White's Major Announcements
Edited By: Vineet Nandwana