Claressa Shields Details What She Has Learnt From Training With Holly Holm and Jon Jones
Published 01/09/2021, 2:03 PM EST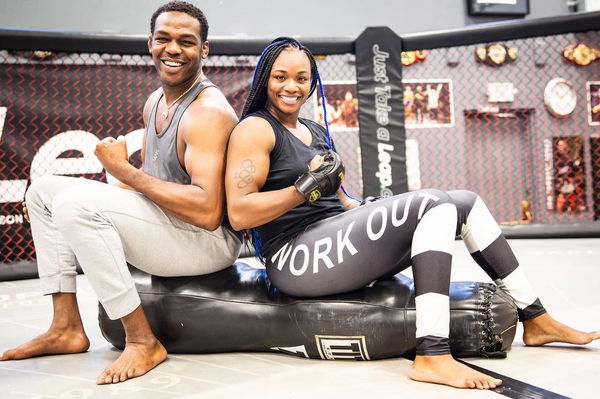 ---
---
One of the biggest names in women's professional boxing, Claressa Shields, is preparing to transition into MMA. The Olympic champ will debut in PFL around May or June later this year. Despite being an accomplished boxer, Shields isn't leaving any stone unturned in her preparation for the next stage of her career. Ahead of her debut, she has had the opportunity of training with two of the best mixed martial artists of all time in Jon Jones and Holly Holm.
ADVERTISEMENT
Article continues below this ad
In an exclusive interview with EssentiallySports, Shields talked about how her experience of training at Jackson Wink MMA has been so far. Not only is she under the tutelage of two of the best trainers in Greg Jackson and Mike Winkeljohn, but she can also take in the vast experience of Holly Holm and Jon Jones.
ADVERTISEMENT
Article continues below this ad
"At first, I was just going just to meet the coaches just to do a low training and just see what the game plan was for me. And the game plan for me was to just strengthen my weaknesses, which was also in my game plan. I wasn't coming into MMA like oh, my boxing is so superb. I am gonna use boxing and blow these girls into dust."
"I actually am open-minded and I'm realistic and I'm coming to terms, and I just came to terms very, very quick that MMA with so many different mixed martial arts, and it's best for me to be good at all of them. Like I'm great at boxing. So that's one less thing to worry about," Shields said.
Jon Jones has had some high-praise for Claressa Shields
Having been around combat sports for long enough, Shields knows she has to master different facets to ace MMA. Her solid boxing background will be highly beneficial. However, if she wishes to be the best in the world in one other dimension as well, she'll have to improve upon her jiu-jitsu and ground game.
ADVERTISEMENT
Article continues below this ad
"But Jiu-Jitsu, kickboxing, freakin' wrestling, I want to get good at all those things. Like I learned so much at the Jackson Wink with Coach Jackson, Coach Wink from Jonny Bones from Holly, I've been able to just do some kickboxing drills with Holly, been able to just learn really combinations and just like the basics of kicking and the body motion everything from Jonny Bones. And also learn how to defend takedowns," Shields added.
Shields isn't the only one who has benefitted from training with Jones. The former light heavyweight kingpin, who has embarked on a journey to capture heavyweight glory, was excited about the future of Shields. She also reminded him of what it was like to be 25 again.
Shields' next three years with PFL will shape the rest of her MMA career. Given her credentials, the expectations are already high for her. However, if she lives up to her potential, she can proudly have the same stature as that of Holly Holm and Jon Jones.
ADVERTISEMENT
Article continues below this ad