Daniel Cormier Warns Booker T – 'Don't Put Me in a Situation Where I am Competing Against You'
Published 12/05/2020, 6:30 AM EST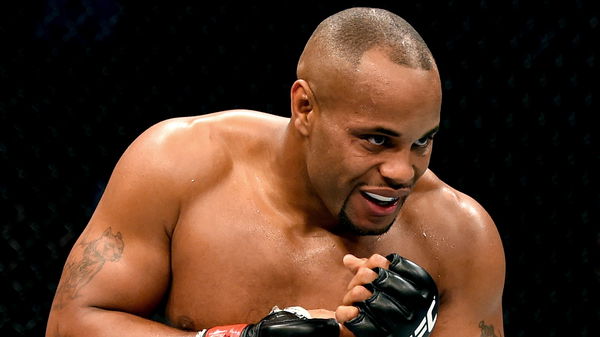 ---
---
A few months ago, sports analyst Pat McAfee and Ariel Helwani were in a conversation with former WWE superstar, Booker T. The audience was left in splits when Helwani dialed up the former UFC two-weight champion, Daniel Cormier, to save him from Booker T. 'DC' took a healthy jibe at the WWE fighter in his own eccentric way.
ADVERTISEMENT
Article continues below this ad
ADVERTISEMENT
Article continues below this ad
Booker T said, "Before I say just the workplace and go do that if I get your dashboard and go do that. But you have done it about me and my career you started this like to build and I'm gonna slap you around."
Suddenly, Helwani called up DC on a phone to back him up in the chat. He informed McAfee and Booker T about the same; asked 'DC' to talk. Furthermore, he proclaimed that a real champion would be talking.
'DC' said, "I mean, in any area in any area in the weight room on the track on the golf course because that's what he loves to do now, in the wrestling ring, no matter where this happens it's a non-event. You don't put me in a situation where I'm competing against Booker T. It does not work. And I'm not want to embarrass a guy that I used to look up to and his attitude that he's shown lately to me."
Helwani claimed to have Olympians on his side and wondered why the duo tried to jump him. Booker T provided a witty reply as he said, "Daniel Cormier is not gonna be with you. And I'm gonna slap you around."
READ – "He Couldn't Hang 2 Seconds" – Booker T Challenges UFC Legend Daniel Cormier
Daniel Cormier and Booker T's prolonged feud
Daniel Cormier is one of the highly respected personalities in MMA. He is known for putting up his blunt opinions on fighters and taking a stand for his close mates whenever needed. In October, Booker T lashed out at DC for mocking him. He called Cormier unprofessional and challenged him to a workout in the gym. Booker believed the UFC legend wouldn't even hang '2 seconds' with him in the gym.
ADVERTISEMENT
Article continues below this ad
On 'DC and Helwani' the host duo cracked up in laughter when Booker called out the analyst as they felt the former WWE star was 'irrelevant'. DC said, "I got you beating this dude Ariel."
DC used to admire Booker T once. Now, both of them never fail to paint shots at each other on podcasts and through their social media handles. Should DC move to WWE to contest the 55-year-old Booker? Who would you root for in this comic battle?
ADVERTISEMENT
Article continues below this ad