"My Beef With Daniel Cormier is All Over": Jon Jones
Published 02/06/2020, 3:36 PM EST
By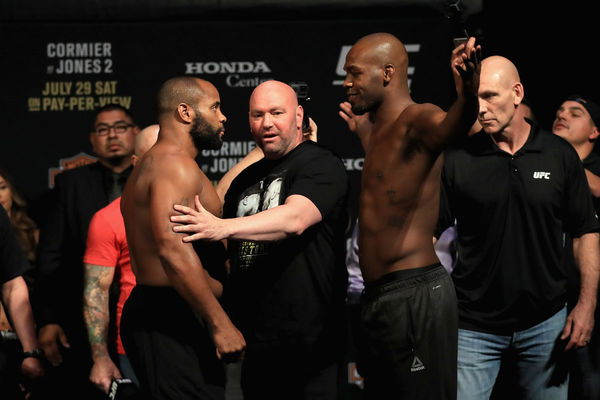 In a vlog that UFC released owing to the upcoming UFC 247, Jon Jones, the UFC Light Heavyweight Champion went on record to say that his beef with Daniel Cormier was in the past. Let's dive into a recap of what the Jones vs. DC beef was all about.
ADVERTISEMENT
Article continues below this ad
The origin of rivalry between Jon Jones and Daniel Cormier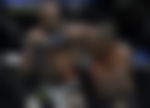 ADVERTISEMENT
Article continues below this ad
It all started much before the pair met in the octagon. Back in 2010, the two met backstage at an event where Jon Jones tried breaking the ice with "derogatory" comments. The conversation sparked the fires for the long-drawn beef that was yet to come. A rather public feud came into light when the two posed for a face-off at a media event to hype UFC 178. What started as a pose ended up with the two butting heads, DC shoving Jones's throat and Jones trying to take DC down. Barrels of abuses were hurled from both sides, and the beef between the two was now more prominent than ever. The pair first met at UFC 182 in Jan 2015, with Jones defending his Light Heavyweight Championship belt. The bout ended with a unanimous decision in Jones' favor. Yet, post-fight, the title was taken away from Jones due to his involvement in a hit-and-run case. This led to a vacancy for the holder of the title, and DC replaced him to beat Anthony Johnson at UFC 187 to become the new Light Heavyweight Champion.
Post the aforementioned events, a rematch between Jones and DC was attempted to be scheduled at UFC 197, but Cormier pulled out due to an injury. DC was replaced by Ovince Saint Preux in the fight against Jones, which turned out to be an interim championship bout. Similar to his previous fight against DC, Bones went on to defeat Ovince by unanimous decision.
Yet another scheduled rematch at UFC 200 was scraped because of Jones's doping violation, following which he was suspended from the UFC for one year. The final encounter at UFC 214 was announced on May 12, 2016. UFC 214 saw the two battle it out one final time, with Jon Jones emerging victorious and regaining his title. Yet, this was not the final decision. Jones tested positive for doping, and the result was declared a No Contest.
After what seems to be ages of rivalry, Jones finally set the fans' minds regarding their rivalry, at peace. On being asked by a fan for an autograph that read "F**k DC", similar to something he'd done earlier, he replied, "Nah man, my beef with DC is all over."