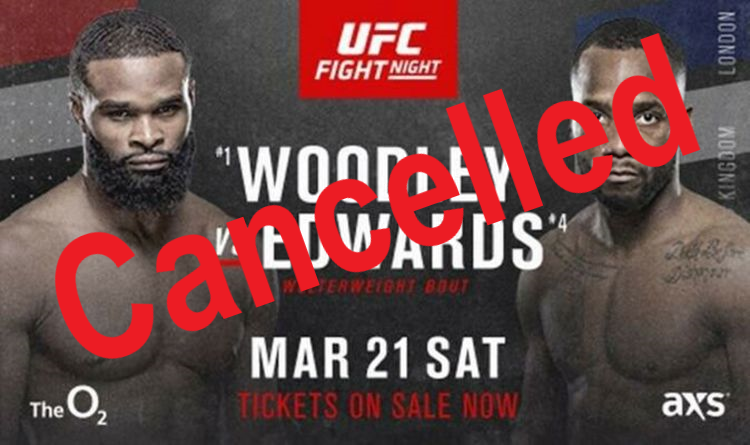 As if the cancellation of the main event between Tyron Wood and Leon Edwards was not enough, now we lose 10 more fights? Is this a nightmare for the UFC?
The Coronavirus pandemic has affected the world severely. The governments around the world have taken serious steps to stop the spreading of the virus, this includes the cancellation of sporting events too.
Recently, it was announced that the main-event between Tyron Woodley and Leon Edwards was cancelled due to the restrictions imposed by the British Government. The company tried to save the card by shifting it to the US, but the travel ban did not allow Edwards to get into the States.
"It's Time to Go": Tyron Woodley Slams "B***h" Colby Covington For Ducking The Fight
However, the company lost more than the main event. As per Bloody Elbow, 10 more fights have been cancelled and 2 are on the verge of cancellation. The UFC is trying its level best to save the card. Recently, they sent out an email to the managers of the fighters.
Check out the following tweets by Ariel Helwani.
This is an email they are sending out to managers and reps about this new card next week. As you can see, they are even open to signing fighters who currently aren't on the roster to fill it up, as well. pic.twitter.com/qYcYCDvdyo

— Ariel Helwani (@arielhelwani) March 15, 2020
Does the UFC care about their athletes?
Apart from that, some fighters are stuck in the UK. Ashley Evans Smith, who was scheduled to fight in the 02 Arena had this to say:
"I've been in London for two days, actually only 24 hours on the ground. Anyway, fight's off, postponed, all I know is that I've got to get back to California, yesterday."
Despite the pandemic, the UFC is still trying hard to put together a card. Some say the company is trying to keep their fans happy, but at what cost? Well, it is no brainer that the athletes are secondary to the UFC. The investors come first.
With most of the major sporting events in the world getting shut down, the UFC is eager on capitalising on the market. Contrary to the belief that the UFC is losing money, there is a high possibility that they will make even more money with no competition.
What do you feel of UFC's decision to continue operating despite a global crisis?
Continue the conversation on the app, join other MMA fans on MMA Fans App