"About Time You Did Something for Me B***h" – Colby Covington Trashes Joanna Jedrzejczyk and Henry Cejudo
Published 05/09/2020, 3:35 PM EDT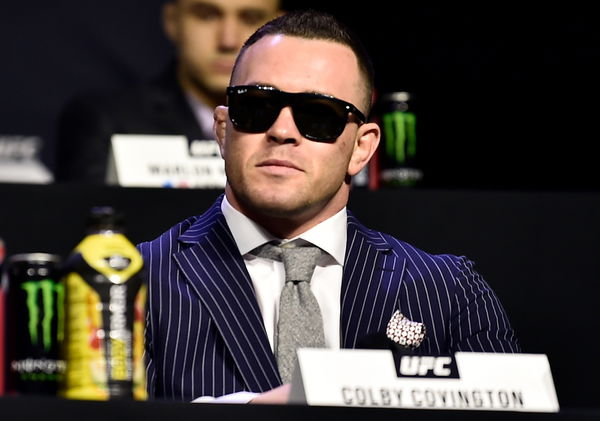 Colby Covington isn't a part of UFC 249. But that doesn't stop him from making some money this weekend. Just like the last major UFC event, Covington is ready to earn big this time as well by placing his bet on the co-main event of UFC 249.
ADVERTISEMENT
Article continues below this ad
Covington posted a video on Instagram in collaboration with MyBookie.ag. He was flaunting a gold watch. "Chaos" revealed that he has his arch-nemesis, Joanna Jedrzejczyk to thank for the watch. This was because the former interim champ had bet against Joanna in her fight against Zhang Weili.
"Last time we put everything on the line, we came back home with this bad boy [pointing towards his watch]. Thanks, b***h. About time you did something good for me," Colby said.
ADVERTISEMENT
Article continues below this ad
Covington has had his back-and-forth with the Polish fighter for quite some time. Both the fighters are a product of American Top Team. However, due to Colby's excessive trash-talking, owner Dan Lambert had to introduce a no trash talking policy for fighters at his gym.
Nonetheless, Lambert's attempt to put a leash on the mouth of his fighters have not been successful. Covington has been running his mouth against practically anyone in the business.
Colby Covington picks his winner of Dominick Cruz vs Henry Cejudo
ADVERTISEMENT
Article continues below this ad
After Colby was done thanking Joanna for the watch, the model in a bikini who shared the screen with him asked who's gonna be the next one to win them a Rolex. Subsequently, the Fort Lauderdale native revealed who, according to him, is the safe bet for easy money at today's co-main event.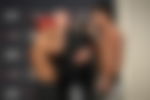 Covington brought an old saying out of the bag. "Size doesn't matter. But when you're this tall [points with his hand], four inches is a huge difference," Colby said. He was referring to the size difference between Dominick Cruz and Henry Cejudo. Owing to the advantage he has in size, Covington picked Dominick to pull off an upset at UFC 249.
ADVERTISEMENT
Article continues below this ad
Henry Cejudo stands at only 5'4″. He has a reach of 64″. Cruz has the upper hand in both the categories by 4″. The former Bantamweight champ will look to take advantage of the reach to maintain distance.
More importantly, the key for the former Bantamweight champ lies in how well he can snub the takedowns of "Triple C". If Cruz can maintain the distance and land from the outside, he can very easily pull off an upset for the ages.