"Gaethje Should Be Afraid" – Khabib Nurmagomedov's Teammate Warns Justin Gaethje
Published 05/12/2020, 12:17 PM EDT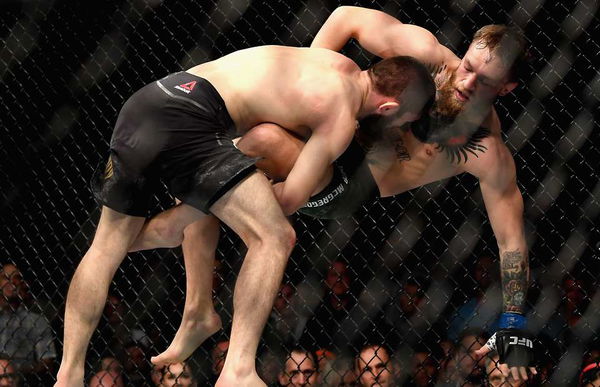 Bellator analyst and retired fighter, Josh Thomson believes that Justin Gaethje will not be able to stop Khabib Nurmagomedov from taking him down.
ADVERTISEMENT
Article continues below this ad
Last Saturday, Gaethje pulled off an upset when he halted Tony Ferguson's 12-fight win streak. The victory earned him the interim lightweight belt and an opportunity to face Khabib in a title unification bout. On the 'Weighing In' podcast, Thomson and Bellator commentator – 'Big' John McCarthy talked about Khabib Nurmagomedov vs Justin Gaethje.
Gaethje is known for having brutal power in his hands. 'The Highlight' has amassed spectacular knockout wins in his career. While most people would give Gaethje a solid chance—against Khabib—on the feet, Thomson feels otherwise.
ADVERTISEMENT
Article continues below this ad
The former Strikeforce lightweight champion claimed that strikers are too worried about the takedown threat to let their hands go. This allows a wrestler like 'The Eagle' to take advantage of holes in the striking defense. For instance, Khabib dropped Conor McGregor in the second round. Who would have expected that?
Josh Thomson gives his opinion on Khabib Nurmagomedov vs Justin Gaethje
"I just feel that like when people have to continuously worry about a takedown that's so on point like Khabib's, they don't release their hands. Their elbows are stuck at their hips and they are not trying to block the punches as much as they are trying to defend the takedown," Thomson told McCarthy.
"Gaethje will be afraid of that," Thomson added. "Yes, he is a good wrestler. (But) Gaethje should be afraid of the takedown, which he will be."
ADVERTISEMENT
Article continues below this ad
Gaethje is an elite wrestler himself. However, he hardly uses his wrestling for offensive purposes. Why? According to Gaethje, he gasses out faster if he utilities his wrestling. Nevertheless, he has a good takedown defense to stop high-level competitors from taking the fight to the mat.
When McCarthy asked Thomson why would Gaethje be afraid of getting taken down, Thomson replied by saying:
ADVERTISEMENT
Article continues below this ad
"He can't stop it. When you can't stop something, you start to worry about it. I don't think Gaethje has any success at stopping Khabib's takedowns. He might stop one or two based on the setup or whatever the position is."
Big John countered Thomson's argument by mentioning Khabib's fight with Al Iaquinta, a match in which many of Khabib's takedowns were stuffed. He also asserted that Gaethje is a much more powerful striker and a better wrestler than Iaquinta.