Ben Askren Names His Price for a Return
Published 05/15/2020, 9:27 AM EDT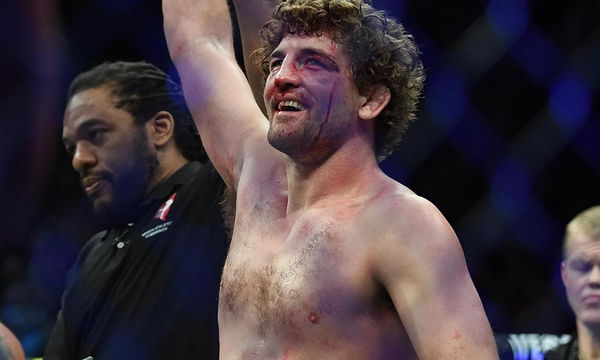 ---
---
Retired mixed martial artist – Ben Askren has demanded a staggering amount of money for a UFC return. For years, Askren was a huge name outside of the UFC. He was widely regarded as the greatest MMA wrestler to have never fought inside the UFC cage.
ADVERTISEMENT
Article continues below this ad
Thanks to Joe Rogan and fans around the world, the UFC made a deal with One Fighting Championship to trade-off Demetrious Johnson for Askren.
Ben Askren makes his way into the UFC
ADVERTISEMENT
Article continues below this ad
As soon as Ben was signed to the UFC, he was put against "Ruthless" Robbie Lawler. After getting smashed in the early minutes of the fight, Askren secured a bulldog choke and earned a controversial submission victory. It remains as his only win in the UFC.
His next bout was against resurging star Jorge "Gamebred" Masvidal. Although many analysts believed that Askren's wrestling would subdue Masvidal throughout the match, Masvidal proved everybody wrong. In just 5 seconds, he landed a legendary knee on Askren's face, knocking him out instantly.
Unsurprisingly, Askren handled the loss like a professional. But his next bout proved to be equally bad. "Funky" faced off against a submission expert, Demian Maia. For the most part of the fight, it was a sloppy striking battle. However, when the bout hit the canvas, the momentum changed. And both fighters displayed incredible ground game.
But in the end, Ben made a drastic error and got choked out. Soon after his loss to Maia, Askren announced his retirement. He also revealed that he was fighting with a bad hip for a very long time. While some fans don't seem to be bothered about Askren's career, there are others who would entertain a comeback.
Will Ben Askren return?
Recently, a fan on Twitter asked Askren what it would take for Dana White (President of the UFC) to get him back to the octagon. Here's what Askren had to say.
ADVERTISEMENT
Article continues below this ad
At the time of writing this article 100 bitcoins is equal to $959833. Would Dana pay Askren such a huge amount? No. Even if you add up all the money he has made from fighting in the UFC, it does not even touch the $900k mark (sponsorships and other sources of money are excluded).
ADVERTISEMENT
Article continues below this ad
Also, Askren is retired for good. He will likely not return as his good days are behind him.
Do you want to see Ben Askren compete at Dana White's fight Island?