Ben Askren has been inactive in MMA since his back-to-back defeats against Jorge Masvidal and Demian Maia in UFC. However, he is yet to put a quell to his UFC journey.
While umpteen fans have enquired about Askren's return, 'The Funky' recently gave an update over his UFC journey and cited whether he would ever step inside the cage again. Askren promises to never take up MMA as a full-time career again. Yet, we could see him in combat shortly.
Ben Askren opens up on his fighting career and return
He recently took to Twitter and opened up about his return plans. Askren has vowed to never make a full comeback. Being currently inactive, Askren seems worried about his weight issues.
Will funky come back? Here's my final answer. pic.twitter.com/3MpkAZy0oR

— Funky (@Benaskren) August 13, 2020
"At this point, not very long to my hip kits done. Here's what I said, number one I  know I need to do something so that I don't get to overweighed, right? Because I love to eat. I want to make myself make weight."
Askren says that he loves fighting and would always do that. However, a full-time comeback is still out of his books. The Funky revealed that if he ever gets a worthy opponent and offered the right price, he might re-appear for action.
"Obviously If I do I might get paid for it right? I love fighting, I love combat. I enjoy it. So I don't think I will ever do a full comeback. We will never do that.
"If someone says, hey come fight this person, and I was feeling squirrelly, and the money was right. I suppose I would do it. I am 100% sure fighting will never again be my career. There will be something I do full time," said Askren.
The Funky Ride in UFC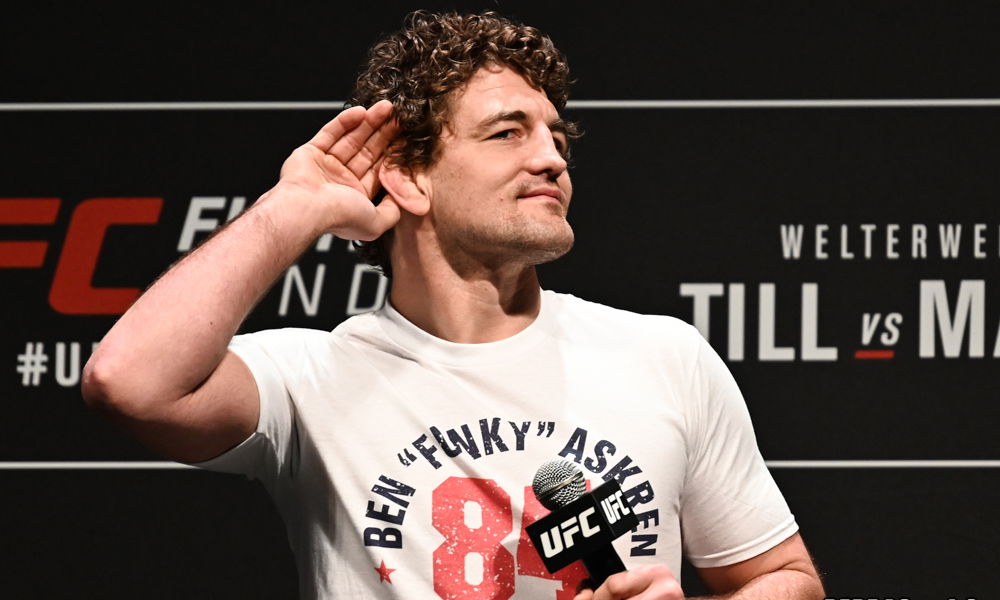 Askren, 36, appeared invincible during his run at One Championship. After cementing an unbeatable record in Asia,  Dana White brought him in UFC.
Askren has had a successful yet controversial win on his debut against Robbie Lawler at UFC 235. However, his next two appearances garnered two huge losses in his career, citing them to be his last professional fights.
Since Askren has vowed to return for a possible fight, there are a bunch of names on the radar. A few days back, Askren and Logan Paul got into a Twitter altercation,
While Logan mocked Askren for getting knocked out against Masvidal, Funky backlashes by claiming that Logan wouldn't survive a minute against him.
I'll pin you in less than a minute, bad hip and all https://t.co/uuYVxnqJvn

— Funky (@Benaskren) August 11, 2020
Basing on Askren's recent tweet, if the right amount is offered we might get to see him lock horns against Logan Paul. However, the notion is yet to receive an official call.
Continue the conversation on the app, join other MMA fans on MMA Fans App