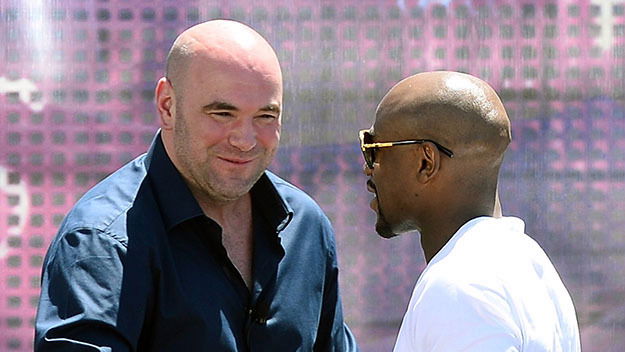 Dana White revealed the two boxers from history that he would like to manage. The UFC juggernaut also gave his thoughts on the sport of boxing.
White is no stranger to boxing. From being a trainer to competing and even managing other boxers, he has done it all. At one point, his apparel company partnered with Floyd Mayweather. According to Mayweather, White carried his bags.
On the Schmozone podcast, White named the two boxers that he would love to manage from any era.
"Tyson! My all-time favorite, you know? Or Ali, another all-time favorite. Ali or Tyson, two of the funnest, most charismatic fighters in the history of combat sports, not just boxing."
Will Dana White promote boxing?
After witnessing the massive success of Conor McGregor vs Floyd Mayweather, White announced his plans to start Zuffa Boxing. Unfortunately, the sport is "a mess" and White halted his plans.
In March 2020, White revealed his stance on Zuffa Boxing.
"I hate speaking negatively about the sport of boxing, other than the fact that it's a mess – we all know it's a mess – and that it needs to be fixed, if it can be fixed," White told Kevin Iole of Yahoo Sports.
"I told you guys that I would have a press conference last October and announce all these things, but as I dove into this thing and started to look into the sport of boxing, the economics of boxing, that sport's a mess. It's a mess and it's in big trouble. I don't know. I don't know if it can be fixed."
White reiterated that he has no intention of venturing into boxing on the Schmozone podcast.
"I thought that boxing was broken beyond repair when we bought the UFC. A lot of the things that we did — I looked at what I thought was wrong with boxing. And what things were good about boxing," White told The Schmo.
"I was really close to making some moves. And thank God I didn't. Everything happens for a reason and it didn't play out. All I'm focused on now is this business. And what to do next here."
Continue the conversation on the app, join other MMA fans on MMA Fans App