"Give Me a F**king Break" – Dana White Destroys Bob Arum in an Epic Rant
Published 06/21/2020, 2:00 PM EDT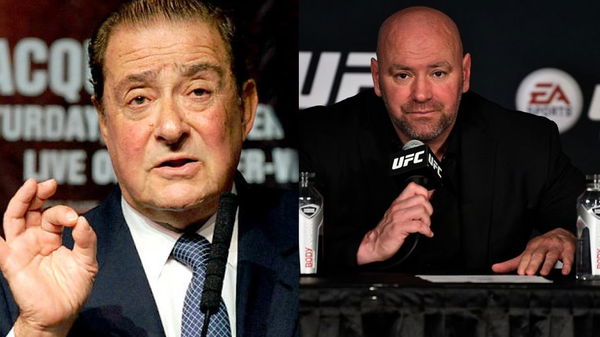 For the second time in a row, UFC President Dana White slammed boxing promoter, Bob Arum. White belittled the 88-year-old with a befitting response.
ADVERTISEMENT
Article continues below this ad
Arum (Top Rank CEO) was one of the many people who criticized Dana White for trying to resume live sports in the United States. However, when White successfully conducted events, Arum also stepped in.
Top Rank resumed boxing events from June 9, almost a month after White successfully pulled off UFC 249. Since then, boxing has witnessed many cards. Some of them did great, while others saw a decline in viewership.
ADVERTISEMENT
Article continues below this ad
"Let me take this opportunity to rip Bob Arum again. So these guys' been pulling sh**ty numbers. They're still battling with Cornhole right now."
Dana White rips apart Bob Arum
Top Rank's first card in June averaged at 397, 000 viewers. Sadly, the June 11 card did worse (311,000 viewers). Previously, Arum had stated that he is optimistic about having an audience in the arena. White, on the other hand, feels otherwise.
"People aren't even watching it on T.V.! F**king fans are gonna show up now? — So this a-hole says that he's gonna have fans at his fights when a few weeks ago, he was talking shit about me even going.
"Then I go now, he's going right after I'm going. But he's gonna have fans all of a sudden too? He's an a**hole. He's got 300,000 people watching his show. Are 14 people gonna show up live?" White told the reporters during UFC on ESPN 11 post-fight press conference.
ADVERTISEMENT
Article continues below this ad
"The Governor just came out and said that everyone is gonna have to wear masks here, like California. And all this other stuff, but Bob Arum's gonna have fans? He's pulling 300,000 viewers, and he's gonna sell f**king tickets? Give me a f**king break."
ADVERTISEMENT
Article continues below this ad
As of now, White isn't worried about a live gate. He said that he has his "sh*t dialed in." Realistically speaking, having a live gate can be dangerous for everybody in the arena. However, White seems to realize this and wants no part of it.
What is your opinion on the rivalry between Bob Arum and Dana White?