Bruce Buffer Opens up on Announcing-"I'm Looking into The Eye Of The Tiger"
Published 05/29/2020, 2:46 AM EDT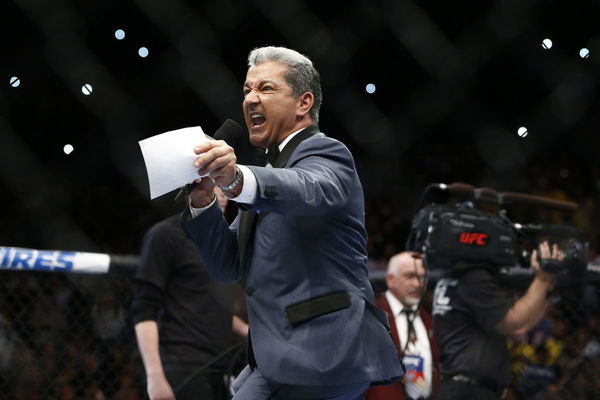 ---
---
Veteran announcer Bruce Buffer spoke to ESPN's Ariel Helwani about the impact of his announcing in an empty arena. Buffer who has been in this role for 24 years, explains his mindset before stepping into the cage.
ADVERTISEMENT
Article continues below this ad
"Every night for 24 years that I have been in the Octagon, I am looking into the eye of the tiger. I am focused on the fighter. So when I normally announce I don't even hear the crowd, even in the biggest shows you can imagine."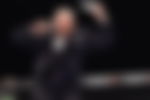 ADVERTISEMENT
Article continues below this ad
Given the unprecedented situation of not having any fans in the arena, Helwani enquired about the necessary adjustments that the veteran voice of the Octagon would have to take.
Bruce Buffer: Into the mind of the maestro
Bruce Buffer went on to say, "I'm too focused on the fighter, so now there's no audience there's no problem I can still do it."
Having a half brother Michael who is the legendary ring announcer further bolsters the legacy of the family. Bruce, who has been with the organization since 1996, has watched it grow first-hand.
Making his first appearance at UFC 10, he will return to the octagon for UFC 250 on June 6. This is a remarkable feat for the announcer.
ADVERTISEMENT
Article continues below this ad
The UFC has had to revamp its schedule due to the COVID-19 pandemic. This has caused complications in settling on a location for events. The UFC will move to fight island come July, and Bruce Buffer may follow suit.
International fighters are unable to secure travel to the United States and Fight Island serves as a provision for them primarily. As fights begin to get announced, the mystery behind fight island is sure to be revealed.
Bruce Buffer has been a staple of UFC broadcasts for so long, it is difficult to imagine his replacement. Having been at every pay-per-view event for the past 10 years, fans and fighters alike expect to hear 'It's Time' regardless of where the Octagon goes next.
ADVERTISEMENT
Article continues below this ad