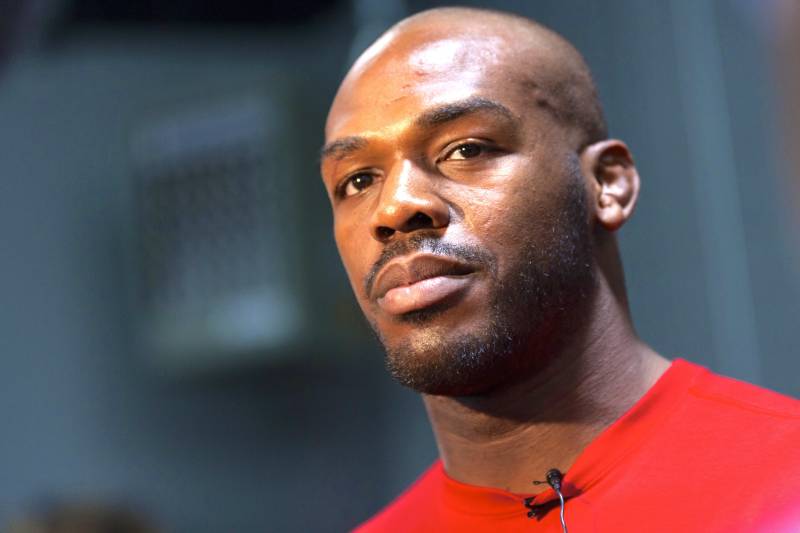 UFC fighter Jon Jones was arrested in New Mexico on Thursday on charges of Driving While Intoxicated as well as negligent use of firearms.
According to the reports the local police department goaded into action after recieving a complaint of hearing a gunshot in the early hours of Thursday in Albuqueque. Apart from the charges of DWI and negligent use of firearms, Jones' charges also included possession of an open container and no proff of insurance. Jones was, however, released from custody by Thursday morning.
Albuquerque PD director of communications Gilbert Gallegos said in a statement that Jones' gun would be tested to see if it was used in any crimes.
"As part of the investigation into this incident, our Gun Violence Reduction Unit will test the firearm and bullet casing to determine whether the gun has been used in any crimes," Gallegos said as per ESPN. "Reducing gun violence in Albuquerque is our top priority."
Imediately after the arrest, Dillon Danis seemed to call him out for a fight while Ben Askren wondered why Jones wouldn't have a driver.
For the life of me I can't figure out why he doesn't hire a buddy and pay him $50k a year to be his driver https://t.co/VcTyztKiVG

— Ben Askren (@Benaskren) March 26, 2020
don't send him to jail he won't learn his lesson, lock him in a cage with me instead. https://t.co/W1Gp6PrVR3

— Dillon Danis (@dillondanis) March 26, 2020
Obviously as a recovery/addiction advocate I sympathize with Jon here, but at the same time at one point or another its black and white… either learn from your mistakes and set a good example, especially with the size of the platform he has, or fuck it all up… https://t.co/nP9tHg5yCS

— Jared Gordon (@JFlashGordonMMA) March 26, 2020
A few questioned why Jon Jones was roaming outside during the coronavirus pandemic
While Jones was arrested for violating a few laws, many also thought he shouldn't be roaming amidst the coronavirus pandemic. For fellow fighter Colby Covington and Peter Queally, it was like the world coming back to normal.
See, there's no need to panic. The world's still perfectly normal. https://t.co/YuWyN0MukI

— Colby Covington (@ColbyCovMMA) March 26, 2020
Nice to see a bit of normality in this crazy time https://t.co/CyCG6pjG4M

— Peter Queally (@peterqueally) March 26, 2020
Bro…you had one job. https://t.co/VRlXc2pjYu

— Michael Morgan (@mikewhoatv) March 26, 2020
Jon Jones: don't go outside y'all
Jon 6 days later when he runs outta come: pic.twitter.com/kqmT5rIsT3

— LA FoXXX Onlyfans for $3 (@FoXXXyPansexual) March 26, 2020
This was not the first occasion of Jon Jones being arrested. In 2012, he was in custody also for DWI. In 2015, was convicted on a felony hit-and-run charge. A few people on Twitter brought out funny references to Jones' latest arrest.
Dana White's latest talk with Jon Jones pic.twitter.com/WQaHBJKyl6

— Derek Langston (@Derek_Langston) March 26, 2020
Coked Up Jon Jones is back. He's about to start sleeping dudes again. pic.twitter.com/oOliYhXAUG

— Zeke (@zamnzeke) March 26, 2020
Jon Jones explaining himself..AGAINpic.twitter.com/6iUNZiYLrk

— Natasha Del Riego (@ndelriego) March 26, 2020
Dana White: " how many ways are you going to tarnish your fighting legacy "

Jon Jones :
pic.twitter.com/jy5VMNErK1

— Jezza (@ReecePeters347) March 26, 2020
Jon Jones about to announce he's ready to get back in the cage and take on his next opponent so all the stans can forgive him again. pic.twitter.com/JijdN7Hk5q

— TheQuillionWatts (@QuillionWatts) March 26, 2020
Continue the conversation on Telegram, join other MMA fans on MMA Fans Group