Conor McGregor's Coach Reveals Big news!
Published 03/13/2020, 11:42 AM EDT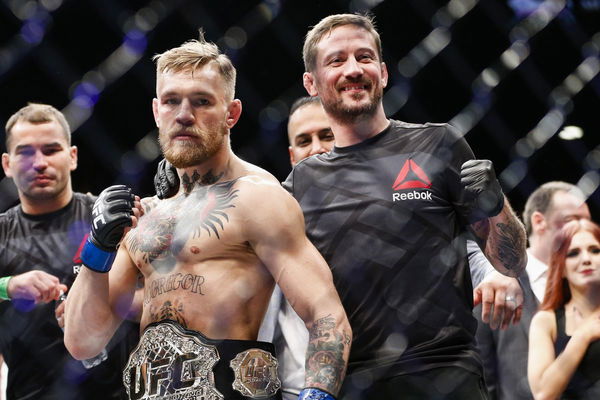 ---
---
Conor McGregor's head coach John Kavanagh has made a tempting indication of the former UFC Lightweight champion's return to the boxing ring.
ADVERTISEMENT
Article continues below this ad
Kavanagh believes that Mcgregor will return to the boxing world within the next 18 months.
It was in August 2017 when Conor McGregor entered the boxing arena for the first to fight Floyd Mayweather, one of the best boxers of all time.
ADVERTISEMENT
Article continues below this ad
McGregor, the first UFC fighter to hold two titles at the same time, went 10 rounds with the boxer before getting stopped in the 10th round.
He may well have won the first three rounds and even taken one at last as well. In doing so, Mcgregor has become the fighter who can tear down the wall that separates boxing from MMA.
His coach, John Kavanagh, certainly believes so.
"I'd be honestly surprised if Conor doesn't have a boxing match in the next 12-18 months," Kavanagh says of his potential return to Gareth Davies.
"He loves boxing. He loved the training for the Mayweather fight." Kavanagh adds.
McGregor has been recently linked to the prospect of returning into the squared ring against reigning WBA (Super) welterweight champion Manny Pacquaio.
And if all things set right, then possibly a rematch with Mayweather.
"It has to be something big, whatever he does seems to always get bigger."
"He's always looking for that next step up," Kavanagh adds.
His return can generate the same media and business attention as it did earlier.
A rematch with Mayweather seems more likely given that Mcgregor criticised "Money" of adopting a more offensive approach.
Conor McGregor's Recent outing
McGregor returns to the scene and gives a classic early-round finish against Donald Cerrone at UFC 246.
And now he is setting his sights on reclaiming the UFC's lightweight throne.
McGregor in an interview with ESPN says about his aspirations of a rematch with Mayweather: "Very much so. And then the Paulie (Malignaggi) fight.
ADVERTISEMENT
Article continues below this ad
"I'd like to box Paulie. I want to box again- I will box again."
"I will get a boxing world title," McGregor adds.
McGregor is rumoured to set foot again in the octagon against the in-form Justin Gaethje.
ADVERTISEMENT
Article continues below this ad
The matchup was shot down by Dana White who says that Conor is, "going to wait (for Khabib). The fight's coming up with Khabib. We'll see how these things play out and go from there."