Deiveson Figueiredo Secures a Brutal Finish Against Joseph Benavidez, Flyweight Division in Jeopardy
Published 03/01/2020, 1:27 AM EST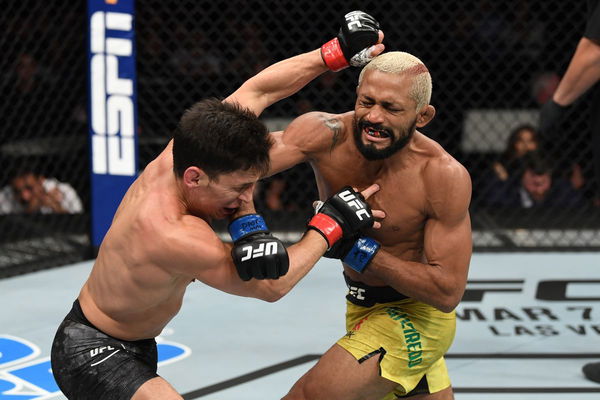 ---
---
The main event at UFC Fight Night 169 ended with the Flyweight Champion still uncrowned.
ADVERTISEMENT
Article continues below this ad
Joseph Benavidez and Deiveson Figueiredo went toe-to-toe in the main event for the night. The fight began with both fighters looking to charge. Benavidez inaugurated the striking with a quick 1-2. Deiveson caught a kick from Baneavidez and took him down.
Benavidez managed to get on his knees, but efficient ground scramble led to Deiveson securing an armbar lock. Benavidez countered the move with an equally efficient scramble, landing a right while executing the same.
ADVERTISEMENT
Article continues below this ad
Joseph seemed to be in control of the striking department. He launched multiple flurries and landed many significant right hands. Meanwhile, Deiveson also brought out the striking game. While lesser in number, his strikes too woked their magic on Benavidez.
Yet, Benavidez managed to outperform his opponent in the first round. (10-9)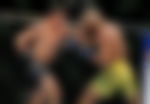 Deciding round: Deiveson Figueiredo lands a big right
The second round proceeded in a similar fashion. Figueiredo looked to employ the spinning game. Joseph stopped him with a low kick and a combination.
Benavidez continued to dish out flurries and devastating body kicks. He was in control of the fight even though he suffered a nasty cut above the eye.
Even though Deiveson could not outstrike his opponent, he maintained his composure. He looked for an opportunity to catch Joseph off-guard and carried out the execution beautifully.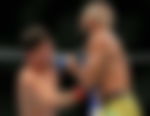 While Benavidez continued to push Deiveson, he seemed a little wabbled. Seizing the opportunity, Figueiredo went in on Joseph. He waited for him to complete his move, and teased him with a strike.
The teasing was useful in playing with Benadvidez's mind. He suddenly brought his arm up to wipe some of the blood that he now seemed to notice pouring out of his left temple. Deiveson capitalized and landed a thundering right jab right to Joseph's mouth.
Joseph fell to the ground and Deiveson engaged in ground-and-pound, though it was clear that Benavidez was done for after the jab.
The referee stopped the fight. Deiveson Figueiredo emerged victorious by way of TKO at 01:54 of round 2.
What is next for the Flyweight division after UFC Fight Night 169?
Originally, the contest between Joseph Benavidez and Deveson Figueiredo was supposed to decide the new champion of the Flyweight division.
Yet, the title shot became one-sided as Deiveson failed to make weight. Thus, while Benavidez could have been crowned champion had he won, the division remains champion-less.
Ever since Henry Cejudo gave up the title in December 2019, there has not been a single Champion in the Flyweight division.
And this was possibly the last chance for Benavidez to become Champion. He has had a long and pretty commendable career. Still, most suggest that he might retire before he gets another title shot.
ADVERTISEMENT
Article continues below this ad
Thus, the future of the division remains unclear, and tonight's incidents have provided Dana White with more leverage to cancel the division itself.
Watch This Story
What do you think the future holds for the Flyweight Division?
ADVERTISEMENT
Article continues below this ad