Did Colby Covington Retire Tyron Woodley?
Published 09/20/2020, 4:03 PM EDT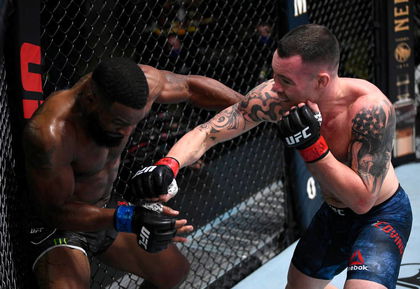 ---
---
Former champions going on a losing skid, as they age, is not a very rare sight in the UFC. With his third straight loss, the 38-year-old Tyron Woodley also seems to be entering the same league. After seeing his performance against Colby Covington, serious questions have begun to loom over the professional career of the former welterweight champ.
ADVERTISEMENT
Article continues below this ad
The fight between Covington and Woodley took years to materialize. However, once the door of the octagon closed, it was all 'Chaos' from start to end. Even the climax came in a manner that Woodley would've least thought of. A broken rib in the fifth-round left him agonizing in pain. Consequently, the referee had to step in.
ADVERTISEMENT
Article continues below this ad
As per ESPN's Ariel Helwani, the pain due to the broken rib was the most Woodley had ever experienced. If his performance in his last three fights wasn't enough for him to think about hanging his gloves, the broken rib should come as an added incentive.
X-Ray of Tyron Woodley's broken rib, courtesy of Woodley.

He said it popped earlier in the fight and then tried to use the gulliotine to stand up and it popped. "It was the most pain ever," he said.

He is back at the hotel resting. pic.twitter.com/onhuYkah0R

— Ariel Helwani (@arielhelwani) September 20, 2020
Dana White believes Tyron Woodley should call it a career
Woodley's last win came over Darren Till when he defended his 170-pound belt in 2018. Since then, he has lost three consecutive fights against Kamaru Usman, Gilbert Burns, and Colby Covington. While he wasn't actually knocked out or submitted in any of the fights, he lost fourteen consecutive rounds.
That number could very well have been fifteen if he would've gone the distance against the former interim champ.
While a case can be made that the losses have come against top-tier competition, it is Woodley's approach to the game that seems concerning to the fans. It looks as if he has lost the mental edge that a top-tier fighter possesses. Even Dana White talked about the same.
"I think that he should start thinking about hanging it up," White said at the post-fight press conference. "He's had a great career…He's made money."
Can Tyron Woodley stay relevant in a loaded welterweight division?
In his matches against Kamaru Usman and Gilbert Burns, it looked like Woodley wasn't even a hundred percent in the fight mentally. That wasn't the case against Covington as desperately he wanted to win. He even made his attempts to avoid staying against the fence. However, Colby was just too much to handle for him.
ADVERTISEMENT
Article continues below this ad
That leads to the question is if this version of Woodley can survive amongst emerging fighters who look way hungrier than he is right now. Woodley wouldn't want to become a ladder which up-and-coming fighters would use to ascend in the rankings. We have already seen the same happen with the likes of B. J. Penn, Anderson Silva, and Robbie Lawler, to name a few.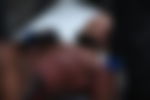 From this point on, it will be very hard for 'The Chosen One' to get back into title contention. The logical advice, like the one Dana White gave, would be to call it a career. To do that, he will have to control his fighter's itch that would urge him to make a comeback.
ADVERTISEMENT
Article continues below this ad
If Woodley retires after this loss, he will be looked upon as one of the terrifying and dominant champions of the division. That would be a memory that he would choose any day over the image of a former champion with a string of losses towards the twilight of his career.