Dustin Poirier Says Justin Gaethje is 'Not a Matador'
Published 12/02/2020, 5:30 PM EST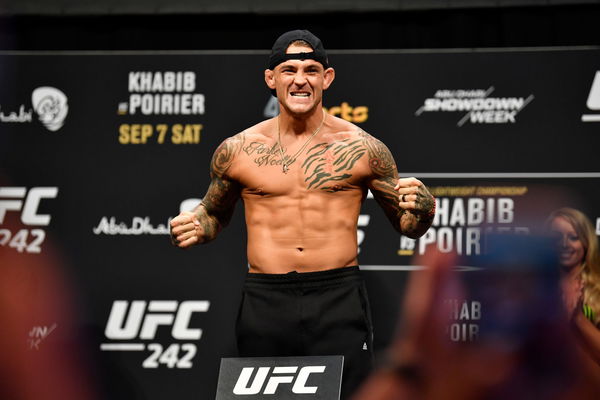 ---
---
The current #2 UFC lightweight contender Dustin Poirier is looking to get back into title contention. The American star will take on Ireland's own, Conor McGregor, in a rematch. Poirier and McGregor will be the main event for the UFC's first pay-per-view in 2020.
ADVERTISEMENT
Article continues below this ad
Having won the interim lightweight title, Poirier would face off against Khabib Nurmagomedov at UFC 242. While 'The Eagle' notched a submission victory, Poirier did show impressive skills.
At one point during the fight, Poirier managed to catch Nurmagomedov in a choke that looked extremely tight, only for Khabib to stay composed and free himself.
ADVERTISEMENT
Article continues below this ad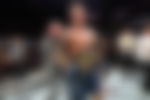 Sitting down with Morning Kombat's Luke Thomas, Dustin went on to give his thoughts on the UFC 254 card. Justin Gaethje, who became interim champion by beating Tony Ferguson, would get his chance to unify the titles. However, the result was the same as Nurmagomedov getting a dominant second round finish.
Dustin proceeded to tell Luke Thomas, "I bet Khabib to win straight up, and I bet Khabib to win by submission. So I doubled down on that, I thought he was going to win."
Dustin Poirier on Tony vs Justin

While the entire roster knows Khabib's game plan, it is remarkable how no one can stop it. Gaethje went into this fight with a strong wrestling pedigree, but ultimately it was no match for that of 'The Eagle'.
"Of course, I was more surprised of Justin's jiu-jitsu and positional awareness on the ground, the lack of," Dustin Poirier continued.
"But I don't have a whole lot of room to talk, I've been doing jiu-jitsu for a long time, competing for a long time, and I got beat up there too. The armbar, the triangle, the quick mounts that Khabib did, I think Justin was out of his game."
ADVERTISEMENT
Article continues below this ad
Poirier went on to say, "It looked like after the first round he was tired. Certain guys can't adjust their styles that much. Justin is the wrecking ball, not so much the matador. I think Tony made Justin look a little better than he is honestly."
With Khabib yet to acknowledge his future or relinquish his title, the lightweight division has been sorting itself out. Tony Ferguson will take on Charles Oliveira at UFC 256 while Justin Gaethje and Michael Chandler are yet to be booked.
However, Dustin Poirier feels that the victor of his fight against the Irishman should be next in line for a shot at the title.
ADVERTISEMENT
Article continues below this ad