Khabib Nurmagomedov vs Tony Ferguson has got to be the most awaited fight in a long time in the UFC. The two are set to collide at UFC 249 in April 2019. Khabib is undefeated in his professional career and will present the biggest challenge for Tony Ferguson. Ferguson's jiu-jitsu coach Eddie Bravo appeared on Joe Rogan's podcast and explained how El Cucuy can play the spoiler to Khabib's unblemished record.
Tony Ferguson is the hardest fighter to predict stylistically in the UFC today. Along with a strong wrestling background, Ferguson has an arsenal of striking weapons. He is capable of knocking out fighters with punches, elbows, and knees. A look at the faces of his last two opponents is enough evidence to establish his striking prowess.
However, the facet of his fight game that makes him unique is his unpredictability. Ferguson catches fighters by surprise with his unorthodox transitions. He is one of the very few fighters that are a legitimate threat even off of their backs. It is these unusual transitions that have made him the master of one of the more exotic weapons in the UFC – the D'Arce choke.
Eddie Bravo believes that Khabib is the worst-case scenario
The owner of 10th Planet Jiu-Jitsu, Eddie Bravo, has confidence in the wrestling prowess of his protegee. He believes that Ferguson presents a much greater threat on the ground than McGregor did.
"We've been preparing for Khabib for a long time.  We're always preparing for the worst-case scenario, and Khabib is the worst-case scenario. He's probably the best ground-and-pounder wrestler ever."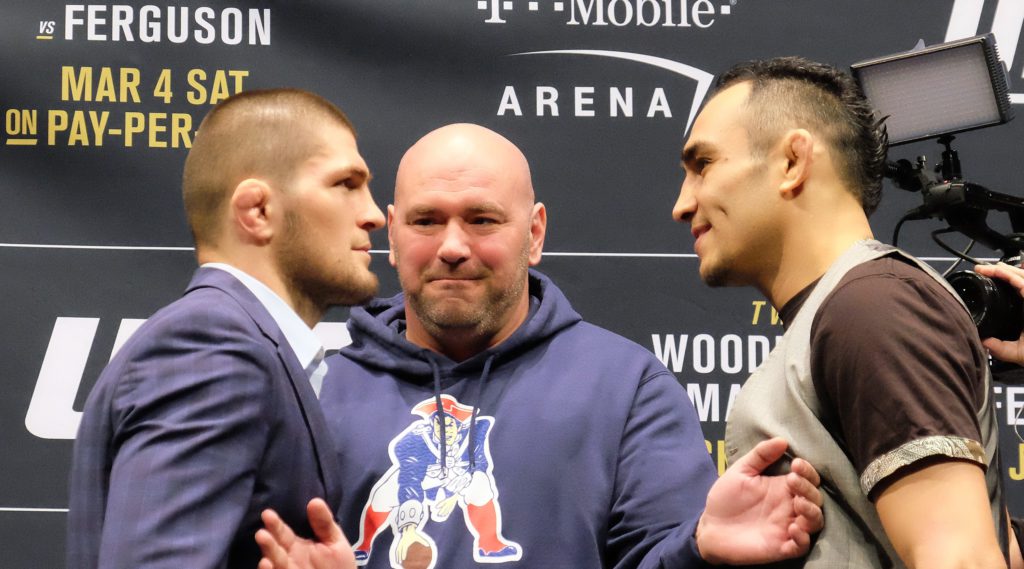 "Tony wrestled his whole life," Bravo said. "There's a light-year difference between Conor's wrestling and Tony's wrestling, so you've got that. Tony will throw D'Arce (chokes) standing and from all different angles, and while you're trying to take him down. So Khabib's got to worry about that"
The D'Arce choke is one of the less frequently used submission maneuvers in mixed martial arts. It's a slight variation of the arm triangle. Fighters with long arms have an added advantage in locking in the D'Arce. Ferguson has used it thrice to win a fight, which is more than anyone else.
What makes the choke even more befitting for Tony's next fight is that it can be locked in from both the ground or on the mat. Ferguson knows very well that when he steps in to fight Khabib, he will be toying with the possibility of going on the mat. And that is where the move can come in handy.
However, what is to be understood is that the D'Arce is just one of the many weapons that Tony possesses. It is this wide range of attacks that he can deliver that makes him so unpredictable. Tony and Khabib have been slated to fight four times before, but the fight has never come to fruition. The fans are hoping that the fifth time is the charm for the two.
Also Read: Watch Craziest Tony Ferguson Workout That Can Never be Replicated
Continue the conversation on Telegram, join other MMA fans on MMA Fans Group