How Can Justin Gaethje Defeat Khabib Nurmagomedov at UFC 254?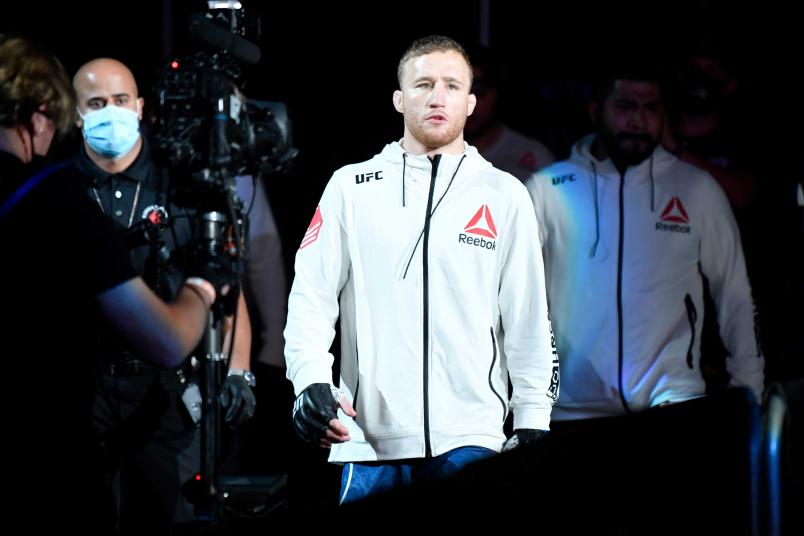 With the weigh-ins out of the way, the biggest fight for Justin Gaethje is now less than twenty-four hours away. The kid out of Safford, Arizona, is standing at the cusp of challenging one of the greatest streaks in mixed martial arts history at UFC 254. As the fight gets closer than ever, we take a look at how Gaethje can turn his interim belt into the undisputed one.
Just like most of his fights, the reigning UFC lightweight champ will have a disadvantage in the striking section. Therefore, the longer the two fighters remain standing, the more can Gaethje fancy his chances of winning. While they are on their feet, distance control will be the biggest factor that Gaethje will have to work on.
One punch power! @Justin_Gaethje may be the most exciting man in the sport 🍿

[ #UFC254 – LIVE on #ESPNPlus PPV: https://t.co/sO1r9pRZcP ] pic.twitter.com/cNNhPeWM1e

— UFC (@ufc) October 23, 2020
With a lifetime of wrestling behind him, Khabib changes level very quickly, shooting for his opponent's legs. Therefore, if Gaethje wants to stuff the takedowns, he has to stay out of the pocket as much as possible. A piece of good advice would also be to not have his back against the fence. This is where Khabib eventually finishes most of his takedown attempts.
What should Justin Gaethje do if Khabib takes him down?
Justin Gaethje will the most accomplished wrestler who will meet Khabib Nurmagomedov inside the Octagon. The fighter who is now known for his vicious highlight reel of knockouts once had a 191-9 record coming out of High School.
However, he just prefers not to use it in fights anymore. That doesn't mean that he has forgotten all those years of grind on the wrestling mat. As good as Gaethje's wrestling pedigree may be, it's highly likely that Khabib eventually gets him against the fence. This is where he will have to prove that he is different from the former opponents of 'The Eagle'.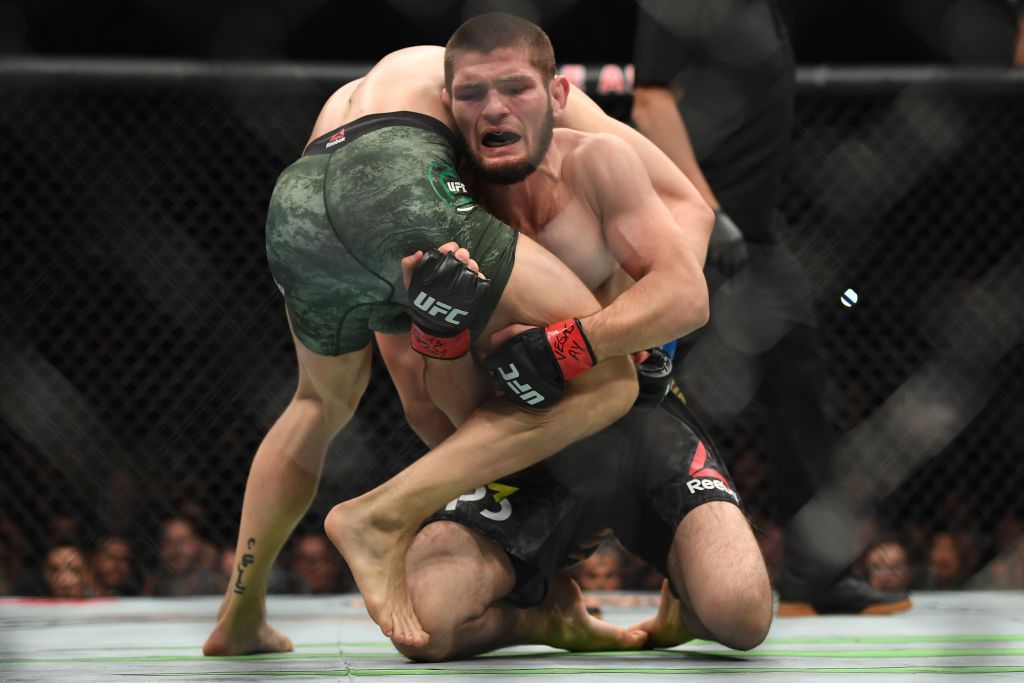 Once he gets hold of his opponents, Khabib makes his opponents carry his weight. His close contact style of fighting doesn't give his opponents the room to work. Therefore, Gaethje will have to create separation somehow. He will look to scramble or roll out of it somehow. Although, when Khabib holds you against the cage, it is easier said than done.
While it may seem counter-intuitive, Gaethje can also emulate what Conor McGregor did against Khabib in the first round of their fight. The Irishman did tap-out eventually. However, while the fight lasted, he gave Khabib a hard time completing the takedown. On top of it, he absorbed negligible damage while he was on his back in the first round.
Justin Gaethje's leg kicks could be his biggest factor for him winning the fight
The fact that Gaethje may want to stay out of range of Khabib's takedowns opens up the gate for his crippling leg kicks. Gaethje has shown that he has the power not only in his gloves but in his legs as well.
If Gaethje can pile up the damage by his debilitating calf kicks, he can also make the Russian much less effective on the ground.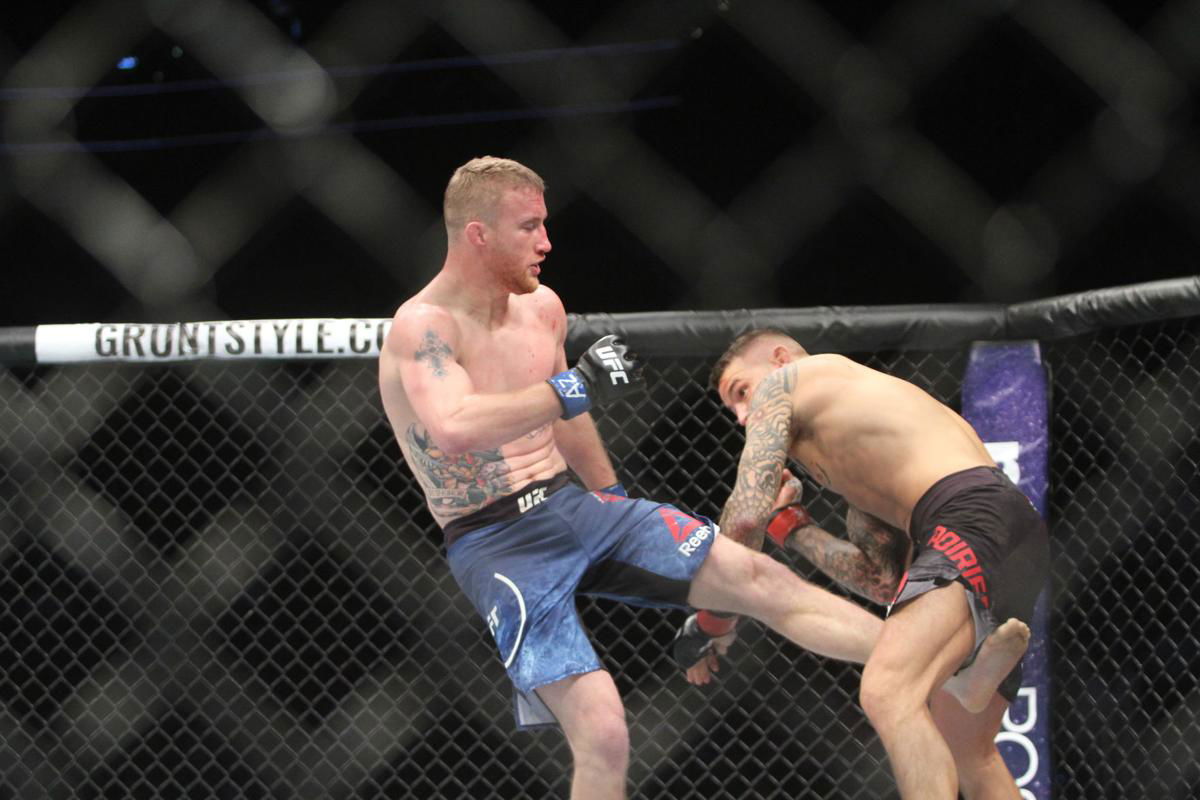 On top of all this, 'The Highlight' will have to pace himself throughout the fight. Although he has a very good gas tank, it will be up to the test when Khabib is constantly trying for takedowns after takedowns.
Last but not the least, Justin will want to keep his ears open for advice from his coach, Trevor Wittman. A master at maneuvering game plans during the fight, Wittman's advice paid dividends in Gaethje's win over Tony Ferguson.
Read More: "I Only Gotta Kick Him 8 Times" – Justin Gaethje Reveals His Gameplan to Beat Khabib Nurmagomedov
Continue the conversation on the app, join other MMA fans on MMA Fans App