Khabib Nurmagomedov Weigh-in Controversy! Did Khabib Nurmagomedov Truly Miss Weight for UFC 254?
Published 10/23/2020, 2:02 PM EDT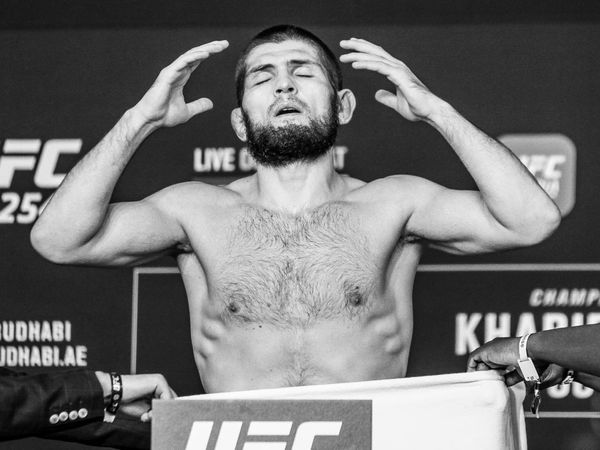 ---
---
Khabib Nurmagomedov and Justin Gaethje have both officially made weight for UFC 254. However, what transpired when Khabib stepped on the scale has raised a number of eyebrows, some even questioning the legitimacy of the weigh-in results.
ADVERTISEMENT
Article continues below this ad
The UFC lightweight champion was the first to step on the scale. A visibly drained Khabib had to use a towel. As soon as Khabib stepped onto the scale, the official announced the weight of 155-pounds. However, as was clearly clear in the video, the balance had yet not settled and was on an upward trajectory.
ESPN's Ariel Helwani tweeted a video of Khabib hitting the scale and termed the official's act as a 'veteran move'.
ADVERTISEMENT
Article continues below this ad
Under usual circumstances, the balance goes upwards when the fighter steps on the scale. However, after a few oscillations, it balances itself. In this case, it wasn't given the necessary freedom to do so. Consequently, the official's actions have led to a number of fans speculating if Khabib could've actually made weight or not.
Former MMA Trainer of the Year says the weigh-in of Khabib Nurmagomedov was not correct
Mike Dolce is a weight-cut coach who has managed the weight cuts of several UFC athletes such as Johny Hendricks, Ronda Rousey, and Thiago Alves. Moreover, he is a four-time World MMA Trainer of the Year. Therefore, it's safe to say that he has sufficient knowledge of the subject when he speaks upon it.
Dolce uploaded a video on his YouTube channel where he points out the same glaring anomaly during Khabib's weigh-ins. He also compared compares it with Justin Gaethje's weigh-in to give a clear contrast between the two.
ADVERTISEMENT
Article continues below this ad
The incident has sparked a lot of discussion among the fans. Both on Twitter and on other discussion forums, fans are going back-and-forth over if the issue is legitimate or not.
It is noteworthy that controversies at the weigh-ins have happened before for fighters from the American Kickboxing Academy. At UFC 210, Daniel Cormier was involved in a similar incident when he had to make the weight limit for light-heavyweight. Cormier leaned on the towel while he was on the scale.
Do you think the official's actions at the weigh-ins were correct or was there something fishy about that?
ADVERTISEMENT
Article continues below this ad