"Your Employer Has the Right to Remove You" – Legendary MMA Referee Goes off on UFC Judge
Published 07/13/2020, 3:28 PM EDT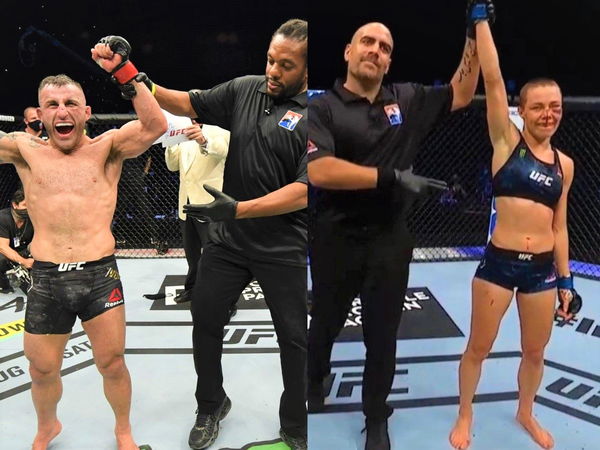 UFC 251 witnessed its fair share of controversies. Former referee—now a commentator for Bellator—John McCarthy claims that the UFC has the right to remove a judge if he/she is incompetent.
ADVERTISEMENT
Article continues below this ad
There is no doubt that UFC 251 saw some awful decisions. The judges' poor decisions enraged fans and critics around the world. Even the president of the UFC admitted that bad judging marred the event.
Dana White unimpressed with UFC 251 judges
ADVERTISEMENT
Article continues below this ad
"You can't leave it to these guys. We've got some bad judging,"  Dana White said during the UFC 251 post-fight press conference. "Looks like we've got to tighten up our refs and judges here on Fight Island."
The two fights in question are Rose Namajunas vs Jessica Andrade 2 and Alexander Volkanovski vs Max Holloway 2. The judges' scores for both fights were somewhat controversial. One judge, Mark Collet, scored the first round of Andrade vs Namajunas 2 for Andrade.
This is an obvious example of bad judging as Rose dominated Andrade in round one. It is not just our opinion or the fans,' even his colleagues scored the round for "Thug Rose." Check out the scorecard below.
Similarly, many people believe that Max Holloway won his rematch against Alexander Volkanovski. Critics feel that Holloway won the first three rounds. However, all three judges scored the third round for "The Great."
"I'm sure [Holloway] is devastated. Did anybody here score it for Volkanovski? Anybody? Nobody in the media? I don't know. We'll have to figure it out," Dana White commented.
John McCarthy gives his verdict
ADVERTISEMENT
Article continues below this ad
Retired referee John McCarthy could not help but respond to a fan who was seeking an answer to a problem regarding bad judging.
The @ufc hired, transported, tested & paid for Mark Collet to be part of 251 and they will be paying him to be a part of the other shows on Fight Island. When your performance is not acceptable, your employer has the right to remove you from their employ. Let's see if they do it https://t.co/FL1ExUdquK

— Big John McCarthy (@JohnMcCarthyMMA) July 13, 2020
ADVERTISEMENT
Article continues below this ad
Judging has always been an issue in MMA. A major reason for poor judging is the lack of knowledge and training of the judges. Therefore, fighters are often told not to leave it in the hands of the judges.
While it may seem like a bright idea at first, but this is not how the sport is supposed to be. Judges should help decide the victor when there is no finish. They should also be responsible and held accountable for their decisions.