UFC on ESPN 13 : Calvin Kattar vs Dan Ige – Preliminary Card Predictions
Published 07/15/2020, 3:14 PM EDT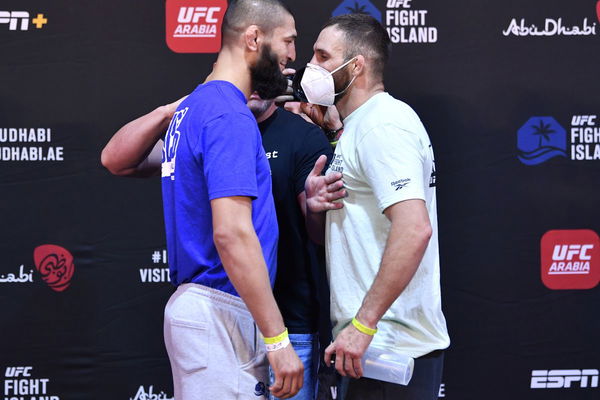 The UFC makes a quick turnaround after a blockbuster UFC 251 with the second of its four events on Fight Island.
ADVERTISEMENT
Article continues below this ad
The main features five fights. A featherweight clash between promising contenders Calvin Kattar and Dan Ige will headline the event. The card also features a clash between former flyweight title contender Tim Elliott and Ryan Benoit.
While the main card promises tons of action, the prelims also can deliver. Read on to know our predictions for all the six fights on the preliminary card.
ADVERTISEMENT
Article continues below this ad
John Phillips vs. Khamzat Chimaev
John Phillips couldn't make the UFC debut that he wanted, However, his ill-fate didn't just stop there. He went on to lose another two fights taking his UFC record to 0-3. When another loss could have led to him being possibly cut from the roster, Phillips showcased why the UFC signed him in the first place. He knocked out Alen Amedovski in just seventeen seconds taking home a Performance of the Night Bonus.
For this fight, Phillips will welcome UFC debutante Khamzat Chimaev. Sweden's Chimaev is a 26-year old prospect who has trained with the likes of Alexander Gustaffson at Allstars Training Center. In just a short career of six fights, Chimaev has displayed good physicality with a knack of taking down opponents. He swings for the fences every time he packs a punch.
While Phillips too has a good striking game, he often relies too much on his power, thus ignoring his footwork. He will be the much more experienced fighter going in the fight but Chimaev looks very promising.
Prediction: Khamzat Chimaev by first-round TKO
Ricardo Ramos vs. Lerone Murphy
A former Bantamweight, Ricardo Ramos moved up to Featherweight in his last fight. He had as good of a debut as he could have wished for, submitting Eduardo Garagorri en route to a Performance of the Night bonus. With a 5-1 record in the UFC, he is quietly moving up the ladder with impressive performances. The 24-year old uses his reach very effectively and has a knack for choking out his opponents.
Lerone Murphy amassed a record of 8-0 before arriving on the big stage of the UFC. In his promotional debut, he fought Zubaira Tukhugov at Abu Dhabi last year on UFC 242. Even after facing adversary in the first round, Murphy displayed his toughness. While the result of split-draw wasn't what he would have expected, he has the promise to grow into a contender in the future.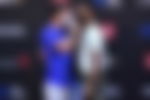 Murphy likes to start early and hence he will have to keep an eye out for not gassing out against Ramos. The England native will have to defend the takedowns of Murphy if he wants to grab the victory. Murphy will have the advantage while both fighters are standing. However, Ramos is no slouch either.
Prediction: Ricardo Ramos by unanimous decision
Modestas Bukauskas vs Andreas Michailidis
Both Bukauskas and Michailidis have the potential to fill the vacant spots of good contenders in the UFC's light heavyweight division. The Lithuanian Bukauskas has secured all his wins, except his debut, via a knockout. Standing at 6 feet tall, the big knock on the Cage Warrior light heavyweight champ is that he gets taken down fairly easily. However, he does manage to scramble back to his feet as well.
On the other hand, Andreas Michailidis is a middleweight who will be making the move up a weight class. He is coming in as a short-notice replacement for Vinicius Moreira, who tested positive for COVID-19. His spinning wheel kick knockout of former UFC fighter Marcel Fortuna goes on to show how good of a striker he is. Just like Bukauskas, Michailidis also has doesn't like spending too much time on the job, finishing most of his fights early.
This fight should be one of the best bets for Fight of the Night honors.
Prediction: Bukauskas via a first-round KO
Jared Gordon vs Chris Fishgold
Jared Gordon's record doesn't do enough justice to the kind of fighter he is. A wrestleboxer out of New Jersey, "Flash" can finish the fight anywhere inside the Octagon. He has dropped three of his last four fights. Thus, grabbing a victory becomes even more important for him.
Chris Fishgold, on the other hand, had his UFC debut spoiled by the same man who headlines this event – Calvin Kattar. A former Cage Warriors champ, Fishgold is a bonafide submission specialist. In his last fight, Makwan Amirkhani gave him a taste of his own medicine, submitting him by an anaconda choke. However, Gordon is not the same level as Amirkhani in terms of submission ability.
The oddsmakers have this fight as the closest one of the prelims.
Prediction: Fishgold via a second-round submission
Liana Jojua vs Diana Belbita
Both Jojua and Belbita have lost their UFC debut. Belbita lost at the hands of Molly McCann in Boston. "Warrior Princess" put up a pretty strong display of her skills against McCann, who is also fighting on the main card of this event. The biggest advantage for Belbita, going into this fight, will be her three inches of height and six inches of reach advantage.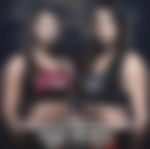 Liana Jojua has a knack for finishing fights. Barring one, all her wins have been via a knockout or TKO. Despite looking like someone who could make an immediate impact in the UFC, she lost her debut against Sarah Moras. Moving down from Bantamweight, Jojua is searching for the perfect weight class that can helo her maximize her ceiling.
ADVERTISEMENT
Article continues below this ad
Prediction: Jojua via a second-round submission
Jack Shore vs Aaron Phillips
The former Cage Warriors Bantamweight champion, Jack Shore is a heavy favorite heading into the bout. With an unblemished record of 12-0 in his professional career, Shore is a certified finisher. Shore finds his spot very easily and connects with his strikes with a high degree of accuracy. He also looks aggressively for submissions.
ADVERTISEMENT
Article continues below this ad
Aaron Phillips is coming back to the UFC after five years. He is taking the fight on short notice after the initial opponent for Shore, Anderson dos Santos, tested positive for COVID-19. During his time away from the promotion, he took three years off of his professional career. However, the pause seems to work as he has won four straight fights.
Prediction: Jack Shore via a first-round KO