"Figueiredo Did Cheat" – Henry Cejudo Accuses Deiveson Figueiredo of Unfair Advantage
Published 03/11/2020, 2:05 PM EDT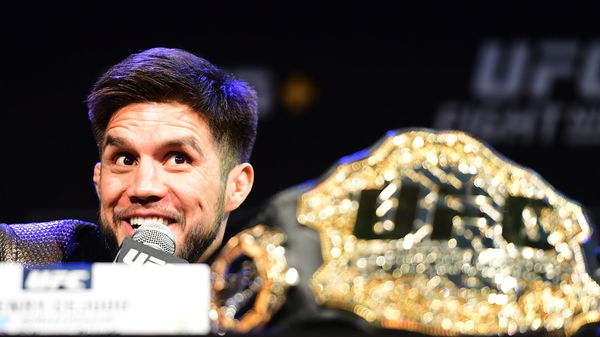 ---
---
Henry Cejudo is one of the greatest combat sports athletes in the world. The American captured the UFC flyweight title by defeating Demetrious Johnson. He later clinched the UFC bantamweight championship. Unfortunately, the American was inactive since mid-2019, forcing the organization to strip one of his belts.
ADVERTISEMENT
Article continues below this ad
Joseph Benavidez took on Deiveson Figueiredo for the vacant belt last month. The match met with a fair bit of controversy after Figueiredo stopped Benavidez in the second round. The former missed weight by 2.5 lbs, which made him ineligible to win the title. Also, Benavidez was a victim of an unintentional headbutt in the match. Many still believe that the fluke caused his knockout.
Currently, Figueiredo is at the helm of the flyweight division without a belt, while Benavidez is #2.
ADVERTISEMENT
Article continues below this ad
Henry Cejudo gives his opinion on the fight
At Dominance MMA Media Day, Cejudo called Deiveson Figueiredo a "cheat". He believes that Benavidez deserves a rematch for the flyweight title.
"I think Joe does deserves it (the rematch). It was unfortunate because Joe did lose, but Figueiredo didn't win [because] there is a disadvantage."
"Two and a half pounds is a lot of weight man, even 0.5 is a lot. 0.2 at times at the highest levels? Super hard, so it's an advantage man. So, Figueiredo, he did cheat." Cejudo said.
Weight cutting is a complicated process for an athlete, as it involves a lot of risks which could turn fatal. Fatigue due to intentional dehydration can wreck havoc on a fighter during the match. Figueiredo kept his strength in the ring at the cost of his weight.
Triple C is the real BMF?
ADVERTISEMENT
Article continues below this ad
Cejudo was all jokes when he was asked whether he would be moving down to flyweight again.
He said, "I will forever be "Triple C", Olympic champ, flyweight champion and bantamweight champion of the world. They can all get it. I'm one of one, I'm the real BMF."
It seems like Cejudo is more focused on his current division. He has an upcoming bout with Brazilian legend José Aldo and will look forward to adding a G.O.A.T. to his résumé.
ADVERTISEMENT
Article continues below this ad
"I'm Gonna Be Serving G.O.A.T" – Henry Cejudo Sends a Message to the Brazilian Fans